Published: Thu, September 13, 2012 @ 12:01 a.m.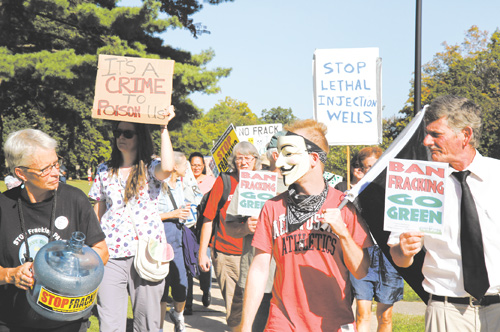 Photo
Protesters at an anti-fracking rally march from the The First Unitarian Universalist Church of Youngstown to the Stambaugh Auditorium. Alice Lynd, top, participated in the rally Wednesday.
By BURTON SPEAKMAN
bspeakman@vindy.com
YOUNGSTOWN
Local people against fracking were encouraged at a rally Wednesday to get involved and pressure their politicians to take action on their behalf.
A group of more than 30 protesters gathered at First Unitarian Universalist Church of Youngstown to watch Josh Fox's short film "The Sky is Pink" after listening to former Pittsburgh Councilman Doug Shields.
Shields led council to pass the nation's first municipal ban on hydraulic fracturing or fracking, a process in which sand, water and chemicals are pumped into shale at a high pressure to release the gas trapped within the rock thousands of feet underground.
After the film, they began a march that concluded at Youngstown City Hall.
Government officials need to be concerned with the health, safety and welfare of their citizens, Shields said.
Pittsburgh City Council did a lot of research and brought in a number of industry people before making a decision. They determined there were risks involved with fracking, he said.
"We read the science and determined this is not safe," Shields said.
There have been no health studies that can prove there is no risk associated with fracking, he said.
"It's not your responsibility to prove this is conclusively bad," Shields said. "It's their responsibility to prove that it's conclusively good, and they can't do that."
One government official supporting the efforts of the protesters was state Rep. Robert Hagan of Youngstown, D-60th.
"Today, in Youngstown and all across the country, people concerned about the dangers of fracking and injection wells are coming together to stand up against the big-money oil and gas industry. Legitimate concerns remain about an industry that has the potential to devastate our communities and environment, and from which there has been a staggering lack of transparency," Hagan said.
"This call to action day is an opportunity for the public to put pressure on and demand answers from these companies that have so far shown blatant disregard for anything other than their bottom line."
Not everyone in the area supported the efforts of the protesters.
Utica Shale development has helped attract more than $1 billion in investments and 1,500 new jobs just in the shale supply chain industries in the Mahoning Valley, said Tom Humphries, president & CEO of Youngstown/Warren Regional Chamber
"This development has occurred without a single environmental frac-related incident in 2011 ... hydraulic fracturing has been in use in Ohio since the 1940s without incident," he said.
The state took actions when there were problems with brine injection wells. They shut down wells that caused issues and strengthened state laws, Humphries said.
"With this in mind, I think protesting this responsible activity is misguided and a disservice to the many people in our Valley who have obtained jobs or hope to obtain jobs related to shale development," he said.
Ohioans are witnessing the benefits the industry is bringing — despite being early in the process — and educating themselves in processes and practices involved in oil and natural gas development, said Dan Alfaro, spokesman for Energy in Depth — Ohio, an industry group.
"Youngstown has experienced these benefits firsthand with the revitalization of steel and manufacturing in the Mahoning Valley — a return of jobs tied directly to the development of our resources in the Utica Shale," he said.
Local civil rights activist, historian, author, and attorney, Staughton Lynd, said it's shameful that leasing companies are trying to gain access to the rights under cemeteries using Mount Hope Veterans Memorial Park Cemetery in Youngstown as an example.
This is a community that took pride in the fact they fought after the steel mills closed, he said. Now people are willing to do anything for economic development.
A few local areas like Niles have taken the first steps toward banning injection wells locally, he said.
"They're taking different steps than Campbell, Struthers and the city of Youngstown, which are relying on fracking," Lynd said.