Throwback jerseys unite Warren's East, West sides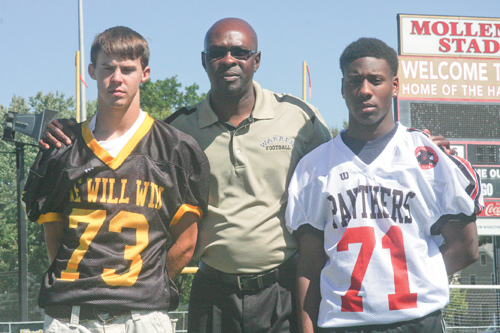 ---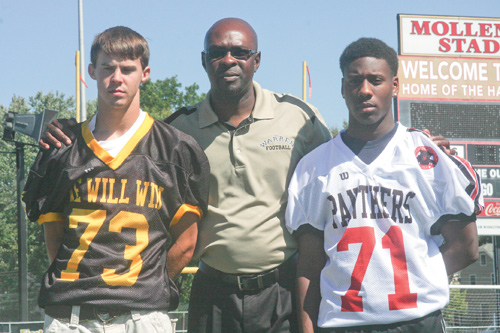 Photo
Warren G. Harding players Jimmy Rumple, left, and Lamar Carmichael, right, flank Raiders coach Steve Arnold while wearing the throwback jerseys the team plans to wear in upcoming games. Harding will wear the Western Reserve jersey Rumple is wearing on Oct. 12 against Cleveland Heights. The Raiders will wear Carmichael's WGH jersey on Oct. 19 against Bedford.
Throwback jerseys unite Warren's East, West sides
By Ed Puskas
WARREN
There was a time when simply saying you were from Warren wasn't enough. The next questions, invariably, were:
East Side or West Side? Harding or Reserve?
It was the early 1970s, and the football-centric rivalry between Western Reserve and Warren G. Harding — Warren's two public high schools — was at its peak. Each year, it seemed, one program or the other was playing for a state championship. It was a dynamic that simply didn't exist in most cities of Warren's size.
The Raiders wore gold and black. The Panthers wore red and black. Players and fans on opposing sides of town had little use for one another, except for that one day a year when they met on the football field. The annual meeting between the bitter rivals was usually preceded by trash talking and even some back-and-forth vandalism.
And then, after the 1989-90 school year, the two schools became one. The new gold and black-clad Warren G. Harding Raiders — which took a lot of getting used to on both sides of town — won a Division I state championship in their first year of existence, but it was still an uneasy partnership for years to come.
That might be changing. Warren City Schools officials gathered Wednesday at Mollenkopf to announce that this year's Raiders will wear throwback jerseys honoring the Harding and Western Reserve teams of 1971-74 in home games next month.
"We zeroed in on that era because of the special run between '71 and '74," Harding athletic director Paul Trina said, who has seen the rivalry from both sides a former Reserve quarterback and as an administrator at Harding.
The Raiders will wear a black Western Reserve jersey with gold numbers and trim against Cleveland Heights on Oct. 12. The jerseys will proclaim, as Western Reserve's once did for a game against its bitter rival, "WE WILL WIN."
A week later, on Oct. 19 against Bedford, the Raiders will sport a nod to their early Harding heritage with a white jersey with red numbers and "PANTHERS" across the front in black letters.
"To re-live the history of the Warren G. Harding Panthers and Warren Western Reserve Raiders will be a great experience for our people and our community," Harding coach Steve Arnold said.
Bruce Burge, of W3 Marketing, said the throwback idea stemmed from conversations about Warren's "good old days" of the 1970s he had with friends Sam Bluedorn, Nick Graham, Bill Cunningham and Joe Ray.
"We were talking about the rivalry and how great it was and how fantastic it was to have two just terrific football teams in the city and how that game was our Super Bowl," Burge said.
Bluedorn, a 1982 Reserve graduate, believes football was never better in Ohio than it was in Warren in the early 1970s.
"It was arguably one of the most successful runs for a city, at least in Ohio high school football," he said.
A Warren team played in the Class AAA state title game every year from 1971-74. Harding was the '71 state poll champion. A year later, Reserve won the first playoff championship in Ohio history. Cardinal Mooney beat Reserve in the '73 title game. Harding won the '74 title.
The first project that grew out of their conversations was WHKZ (AM-1440) beginning broadcasts of Harding football last season with long-time area play-by-play man and John Caparanis and Nick Frankos in the booth.
"The next step was bringing the teams back," Burge said.
The district raised enough money through private donations to strike a deal with Wilson to create the jerseys.
The jerseys also will be available for purchase by the general public, Trina said.
W3 Marketing can be reached at 330-399-4554.