Girard Indians golf is family affair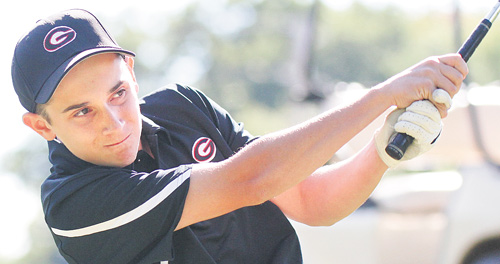 ---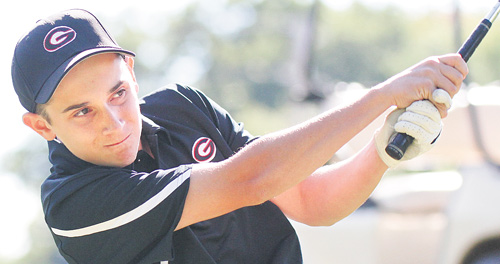 Photo
Girard's Mark Standohar makes a tee shot during Tuesday match with Newton Falls at Mahoning Country Club. Standohar shot a team low of 37 to help the Indians beat Newton Falls, 157-166. His brother, Mark, and cousin, Jimmy are also on the Girard boys golf team.
By MATTHEW PEASLEE
mpeaslee@vindy.com
GIRARD
The best season in the history of Girard boys golf has been years in the making.
Evan and Mark Standohar, brothers separated by two years, started golfing when they were young. Their cousin, Jimmy, joined soon after.
"They started before me," Jimmy said. "They were always better than me but I kept going out every time, even if they'd beat me.
"Now, we're pretty much all equal."
The Standohars, along with Nick Krajcirik, have been the Indians' anchors on a perfect 11-0 season, thus far.
With a 157-166 win over Newton Falls on Tuesday, they likely sealed the All-American Conference title.
"It's a great accomplishment for these kids," coach Josh Marsh said.
Especially after facing an uphill battle.
After the first tee, hole No. 10 at Mahoning Country Club, Girard trailed the Tigers by seven strokes. Evan was already 3-over.
"I've been through a lot of situations in golf," he said. "You have to stay mentally tough. "There's so many shots out there that you can play. I stayed positive, Mark gave me his support and I focused on my next shot."
Which was a clean drive that set up a birdie on the 476-yard par 5.
"That gave me a boost," Evan, a junior, said. "It calmed the nerves and settled me down even more."
He finished the day with a 38, Jimmy and Krajcirik had 41s and Mark, just a freshman, shot a team-low of 37.
"Any day it could be any of us," Mark said. "We're all great golfers."
It wasn't the first day little brother beat big brother. Evan has seen the day coming for a long time.
"It's funny, we both played in the North Coast League in Cleveland a few years ago," Evan said. "I was about 13 or 14 and he was 11 or 12. My dad and friends would joke around and say, 'Hey, you know he's going to be nipping at you.'
"I said, 'heck, he's going to be better than me.' "
On Aug. 22, Girard beat Newton Falls by one stroke at Riverview. The Tigers were up by one entering the final hole. Ending in a tie, they went to the fifth score from each team. Jimmy's 43 made the difference by one stroke.
"That was very nerve-wracking," he said. "I came in with that score and I didn't think it would hold up. Luckily, my team picked me up and it was a really good feeling knowing that we escaped."
It's really been the norm when the two Trumbull County schools face off.
"We've played these guys close for five years," Tigers coach Scott Kernan said. "If we'd have played a one-hole match, we would've kicked tail. Unfortunately, we had to play all nine."
The Indians missed qualifying for districts by three strokes in 2011.
"Winning conference was one of our goals," Jimmy said. "Sectionals — that's our main focus. We can't wait to see how far we can take this."
That's also what Kernan has his sights on. The Tigers are 9-2 with both losses coming to the Indians.
"You hear the word depth in basketball and football," he said. "Not so much golf. But with Girard, they're deep in golf."
Sean Croell led Newton Falls with a low of 40. Logan Beechy, Jacob Harrah and John Seals all shot 42.