Anniversary of 9/11 attacks marked in quiet reflection
SEE ALSO: 9/11 memorials smaller on 11th anniversary
Mahoning Valley 9-11 Memorial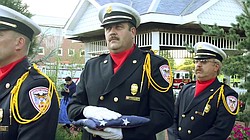 Video
The 2012 Mahoning Valley 9-11 Memorial was held in in Austintown. Hundreds attended the event
By Marc Kovac
COLUMBUS
Gov. John Kasich marked the 11th anniversary of the Sept. 11, 2001, terrorist attacks with a moment of quiet reflection amid thousands of flags memorializing those who lost their lives.
Though there was no formal service outside the Statehouse on Tuesday, Kasich took a few minutes to remember emergency responders who gave their lives trying to rescue people from the falling World Trade Center towers in New York City.
"In really sad times, it brought out the best in a lot of people," Kasich told reporters. "You think about the port-authority police and the firemen carrying those heavy packs, running up the tower to try to save people's lives. Many of them gave their lives."
The display on the Statehouse lawn is created annually with 2,999 tiny flags representing victims forming the shapes of the World Trade Center towers and the Pentagon.
During his stop at the display Tuesday morning, Kasich commented on co-workers who died helping others flee. He talked about children left without mothers or fathers. He remembered wives and husbands who were left behind.
"It's a sad day," he said. "It's changed our country. ... It's changed who we are. And in many ways, I guess, even though we've had a lot of tough struggles as Americans, it sort of was the final blow to the innocence that America represented."
He added, "It'll never be the same."