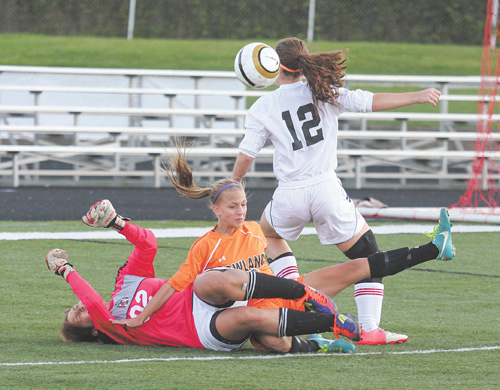 ---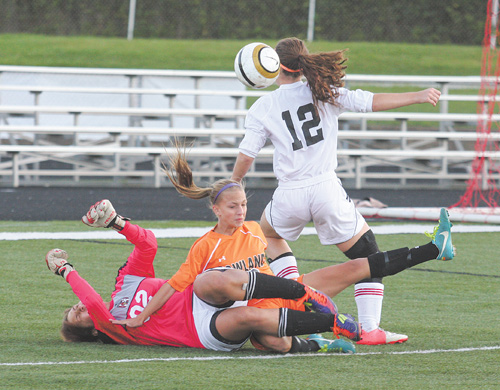 Photo
Canfi eld goalie Victoria Villano (02) and Howland's Jordan Entler, middle, get tangled up as Canfield's Sophia Mancini (12) tries to get control of the ball during the first half of Monday's game at Canfield High School.
By Ryan Buck
CANFIELD
When a soccer team gets outshot 12-4 in a half, it usually spells its doom.
For the Canfield High girls soccer team, four shots were all it needed to net three goals and pull away from conference rival Howland in the second half of their pivotal match Monday night at Bob Dove Stadium.
The Cardinals (5-1-0, 2-0 All-America Conference American) won 4-2 and seized control of the conference race with the defending champion Tigers (4-2-0, 1-1).
Canfield, ranked sixth in the Division II state coaches poll, countered Howland's aggressive attacking strategy in the decisive second half.
"It's very hard to play against a team that, in the second half, just launched it, bypassing the whole midfield so we didn't get to build up play much. To be able to take advantage of the opportunities we had was awesome," said Canfield coach Phil Simone.
Bailey Fischer gave the Cardinals a 2-1 lead seven minutes and 54 seconds into the second half off a perfectly-placed pass through the Tigers' defense from Haylee Klacick.
Howland responded 5 1/2 minutes later. Seyla Perez, who pressured the Cardinals' back line all night, raced toward the Canfield goal. The physical forward, already committed to Pittsburgh, forced an errant clearance that found its way into the Cardinals goal to tie the match at two.
Howland coach Joe Megyesi wanted his powerful forward to get as many chances as possible at goal.
"I thought there was a couple times I thought she should have taken shots, but she passes it off. Other than that, she's really good," said Megyesi.
Perez scored Howland's first goal on a penalty kick 40 seconds into the match.
Howland repeatedly drove shots at Canfield goal keeper Victoria Villano. The junior responded with six second-half saves to keep her team in position to win.
"Tonight was good," Simone said. "She did come up with a couple big saves."
With 15:50 remaining, forward Paige Bidinotto corralled a loose ball in the Tigers' 18- yard box, and put the Cardinals ahead for good with some fancy footwork.
"The ball was played in and I could have shot it right-footed, but it wasn't quite open so I hit a quick cut left. It was a wide gap open to the corner," Bidinotto said.
Jen Love, whose first half penalty kick tied the match after Perez' goal, drilled a right-footed shot past Howland keeper Emily Price for a 4-2 Cardinal lead with 7:44 left.
"We've been playing really good and this was a big game for us and I wish we could have pulled it out," Megyesi said. "A couple things here and there, that's the way it goes."
Canfield has now bested two rivals early in a promising season.
"We just beat Poland, now Howland. It's a good road ahead," Bidinotto said.
The Cardinals will make the return trip to Howland in late September as conference play winds down.
"I'm looking forward to them coming back to our place," Megyesi said.