Second celebration of Greek food, culture energizes Valley church
Greek Festival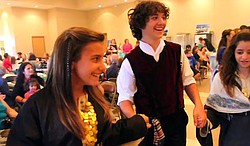 Video
Traditions are kept alive in part through a Greek Festival at Archangel Michael Greek Orthodox Church.
CAMPBELL
The air was thick with the smell of lamb on a spit at the Archangel Michael Greek Orthodox Church on Sunday as the parish celebrated this year's second Greek Fest.
The event put on in February and September enables the church's hundreds of members to come together for traditional Greek foods, dancing, music and camaraderie.
"It's also one way we generate finances to run the church," said the Rev. Steve Denas, as he stood speaking with parishioners and looking out over the hall as children ran into one another as they played. "We always have the event outside at this time of year, but scanning the weather today, we decided to bring it inside."
Denas said it was the first time in years that the event wasn't sprawled out between the outdoors and the church hall. But the weather did little to hold off festival-goers, some of whom came from the larger community to sample the wide array of food.
"I came for the Spanakopita," said Patty Slater, as she stood in line for food with her husband Rick. The couple is from Youngstown's West Side, but neither is a church member.
Spanakopita is a layered pie with spinach and feta cheese filling. The foods at Sunday's event seemed endless: Gyros and Pastichio — a sort of Greek lasagna — were proving a big hit, said those serving parishioners and others.
At the edge of the church hall, vendors sold jewelry, T-shirts and a variety of items such as icons, a religious work of art significant to Eastern Christian sects, described by parishioner Chris Zetts as "windows into heaven."
"This is a big deal for the church in Campbell. On a Sunday there isn't a lot to do, so most people are here," Zetts said. "It doesn't happen too often so we get a lot of out-of-towners, too."
The festival, which kicked off Friday, also featured children dancing in traditional Greek clothing.
"Oh yea, I'm excited for this — we look forward to it," said Mary VanSuch, 13, as she stood near her mother preparing to throw a Zempede over a long navy blue dress.
Much like the boys, who wear a sash around their waists paired with high boots, pants and dark shirts, the girls wear linen gowns and the Zempede, a scarf, is tied around their waist or shoulders, VanSuch said. The sash and Zempede are ornamental and provide a flair when the children dance.
Campbell is home to a large segment of the Mahoning Valley's Greek-American population.