Canfield band hosts night of music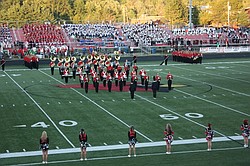 Photo
Neighbors | Emily Gianetti.The Canfield Band Night occured on Aug. 28 at the Canfield High School stadium. The marching band opened the event with the "Cardinal Fight Song."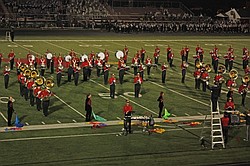 Photo
Neighbors | Emily Gianetti.The Canfield marching band closed the show on Aug. 28 at the Canfield High School stadium with "Land of Make Believe," a song that featured seniors Alex Tareshawty and Michael Barkett.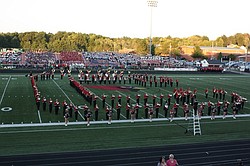 Photo
Neighbors | Emily Gianetti.The band formed the traditional "C," which represents Canfield, at the end of the fight song before moving on to "Hang on Sloopy," "God Bless America" and the Canfield High School Alma Mater.
By EMILY GIANETTI
The Cardinal Pride Marching Band hosted its 38th annual Show of Bands on Aug. 28 at 7:30 p.m. in the Canfield High School Stadium.
Six different bands appeared at the event. The Fitch Falcons, the Boardman Spartans, the Poland Bulldogs, the Struthers Wildcats, the West Branch Warriors and the Champion Marching Thunder Band all joined the Cardinals for a night of music.
"Everyone was very excited to perform for the other schools and for the home crowd. All the bands were very supportive of each other," said senior drum major Hayley Ward.
The Cards were the last band to take the field, but appeared energetic and enthusiastic as they performed their colorful array of songs, led by directors Michael Kelly and James Volenik, as well as Ward and junior drum major Emily Damelio.
"We sounded good and we marched well," said Ward. "I thought everyone put in a great effort individually, so collectively we did a fantastic job."
The 172-member band has a "Latin-palooza" theme to its songs this year. Numbers include Pitbull's "Give Me Everything (Tonight)" and "Oye Como Va" by Tito Puente.
"I really enjoy them," said Ward of the songs. "They're fun to listen to and they all have something different to offer. They all tie into our theme really well."
Members of Canfield's band come from the school's concert and symphonic bands, which were both awarded "superior" ratings at the State Band Contest in May.
This school year, the marching band will be playing at all football games, both home and away. They will also be at Boardman High School Band Night tonight at 7 p.m.
More like this from vindy.com