'Death by China' film featuring Ryan, Sheen to be shown in Valley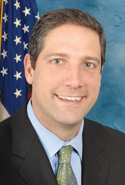 ---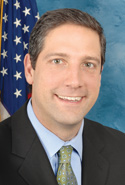 Photo
YOUNGSTOWN
"Death by China," a documentary about the United States' trade relationship with that Asian nation that features U.S. Rep. Tim Ryan, will be shown Friday at two Mahoning County locations.
The film is being shown at no cost at 7 p.m. Friday at the DeYor Performing Arts Center's Powers Auditorium, 260 W. Federal St. in downtown Youngstown.
It will be followed by a question-and-answer session at 8:30 p.m. with Peter Navarro, who wrote, directed and produced the film; Ryan, of Niles, D-17th, a vocal critic of China trade policies; and state Sen. Joe Schiavoni of Boardman, D-33rd.
Tickets need to be picked up at the Powers Auditorium box office or by calling 330-744-0264 as soon as possible, as seating is limited.
Also, the film will be shown, at regular admission prices, at Regal Austintown Plaza 10, 6020 Mahoning Ave., from Friday to Sept. 13.
"The movie is how in 2001, we essentially surrendered our [manufacturing sector] to China" by permitting the country to join the World Trade Organization, Navarro said in a Wednesday interview with The Vindicator.
Since then, more than 50,000 U.S. manufacturing plants have closed, he said, largely because of China's use of cheap labor, unfair trade practices, manipulation of its currency, "rampant piracy" of U.S. trademarks, and lack of concern about the environment.
"The people of Ohio and this country shouldn't have to compete against a country that violates WTO policies," Navarro said.
The film is based on a book with the same name written by Navarro, a business professor at the University of California-Irvine.
Ryan, featured in the film, hasn't seen it yet, but is excited to view it Friday.
"It's an opportunity to bring more attention to our relationship with China," he said. "They violate intellectual property laws and China has a general disregard for international law."
Ryan said he didn't "realize this would be a big-time production showing in movie theaters."
While China is a problem for U.S. manufacturing, "we have to keep an eye on what we do as far as trade. It's like complaining about the referees in a game. Yeah, it's a problem, but you can't let it take away from what you do."
The film, narrated by actor and activist Martin Sheen, premiered Aug. 17 in Los Angeles, and then played for seven days in New York City.
The film has received more negative than positive reviews from movie critics.
A review in the New York Post called it "overwhelmingly one-sided. It would make a nice TV infomercial, but certainly doesn't deserve a big-screen release." The New York Times wrote that "the film undercuts its arguments with an abundance of inflammatory language and cheesy graphics," and is "unabashedly one-sided and is short on solutions." Even so, that review states it "certainly warrants examination and discussion."
Variety's review was generally positive stating Navarro "alternates hard-hitting, articulate sound bites with more relaxed, down-home testimony." But the review also compared the documentary to an "anti-Soviet propaganda [film] of yesteryear."
Navarro said he was "a little surprised at the critics' responses because the audiences are moved by the facts."
The movie is also being shown from Friday to next Thursday in theaters in Cleveland and Akron, and in Dayton, Portsmouth, Athens, Cincinnati and Beaver- creek, Ohio, later this month. It will be shown in Chicago, Norfolk and Birmingham, Mich., through the end of September.