Mahoning County saves time, money maintaining own vehicles
Tweet
Published: Thu, September 6, 2012 @ 12:05 a.m.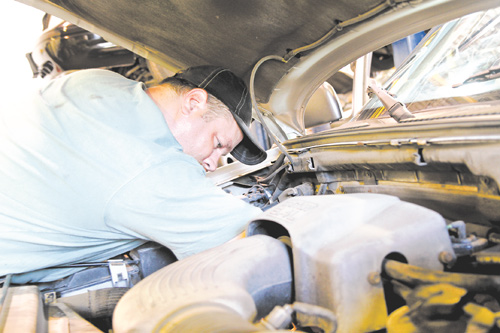 Photo
Ray Kelly, a Mahoning County mechanic, works on the engine of a county vehicle at the sanitary engineer's office, 761 Industrial Road, Youngstown, where fueling and maintenance are centralized to save money.
Mahoning County saves time and money maintaining its own vehicles
YOUNGSTOWN
Through centralized fueling and maintenance of county vehicles in-house, Mahoning County saves money and enjoys better control over these functions than it would if it were to rely on outside locations, county officials say.
"It's all about efficiencies. It's all about cost savings," said Bill Coleman, office manager at the county sanitary engineer's office, which is the county's central fueling and maintenance facility.
"Having our own facility gives us the ability to monitor what's being used," said Commissioner Carol Rimedio-Righetti. "I think you need to have that central location. It's very cost-efficient," she added.
All county vehicles, except those belonging to the county board of developmental disabilities, are fueled at the sanitary engineer's office, 761 Industrial Road.
All county vehicles, except those of the DD board and the county engineer's office, which have their own mechanics, are maintained by the three full-time mechanics at the sanitary engineer's office.
That means 241 vehicles, including those belonging to 19 county departments, are maintained at the sanitary engineer's office, and an additional 95 vehicles belonging to the county engineer's office are fueled there.
The county buys discounted vehicle parts from NAPA Auto Parts through a purchasing collaborative, known as the National Joint Power Alliance. Last year, it bought $102,000 worth of parts from NAPA.
Through a state-purchasing cooperative, the county buys gasoline and diesel fuel from the Great Lakes Petroleum Co. of Cleveland.
Last year, the county bought 138,272 gallons of gasoline and 43,653 gallons of diesel fuel for a combined total of $593,223, with the county's price averaging 12 percent to 15 percent below retail, said J. Robert Lyden, who was county sanitary engineer until Aug. 24.
"Why pay retail?" Lyden replied when asked why the county doesn't fuel its vehicles at privately owned gas stations.
"We've participated with cooperative purchasing to obtain economy- of-scale discounts, instead of fragmenting where we're obtaining our fuel or purchasing our parts," said James Fortunato, county purchasing director.
"We look at total volume need, and we standardize what's being needed under one garage with the state volume discount," he said. "We're obtaining the greatest discount we can," he added.
By centralizing the fueling in a secure location, monitored around the clock by security cameras, the county prevents any fueling of unauthorized vehicles at the county pumps, Lyden said.
Before a county employee fuels a county vehicle at a county gasoline or diesel pump, the employee must use a key and enter an identification number and security code and the vehicle's odometer reading.
County mechanics earn between $16 and $22 an hour, whereas a private repair shop typically charges $75 to $85 an hour for labor, said Ron Weimer, vehicle maintenance foreman.
By doing its own in-house maintenance, the county can get its vehicles back on the road quickly, rather than waiting its turn at a privately owned mechanic's shop, Coleman said.
All county vehicle mechanics must maintain Automotive Service Excellence certifications, Lyden added.
Centralizing fueling and in-house maintenance also reduces the paperwork required to keep track of these functions, Coleman said.
The wide range of vehicles maintained at the sanitary engineer's shop includes a bus used to transport the sheriff's day-reporting inmates to their work sites; sheriff's and emergency management mobile command posts; and an armored tactical police vehicle, known as The Bear.
Well-traveled county vehicles maintain 800 miles of sewer lines and 487 miles of county roads.
Because of the urgency of their functions, the maintenance shop gives top priority to sheriff's department vehicles and second priority to sanitary engineering vehicles, Weimer said.
The county's shop performs oil changes, coolant maintenance, brake work, minor electrical work, bulb replacements, tune-ups, minor engine repairs and diagnostic work.
Coleman said, however, transmission work goes to outside local transmission specialty shops.
The county's mechanics also can advise department heads when constant maintenance needs and high costs reach the point where a heavily used, high-mileage vehicle should be replaced, Coleman said.
"We try to replace rolling stock on a regular basis here because of the reliability factor," Coleman said. "We want to make sure we have newer vehicles in our fleet because we can't afford to have vehicles spending all their time in the shop" for maintenance, Coleman added.