Valley Dems eager, ready to rebut GOP at convention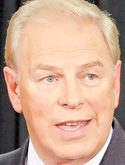 Photo
YOUNGSTOWN
With the 2012 Republican National Convention in the books, the Democrats — including several from the Mahoning Valley — take center stage on the political landscape with its three-day convention, beginning today.
A dozen Valley Democrats are serving as delegates at the Charlotte, N.C., convention that culminates with President Barack Obama's acceptance speech Thursday night.
Among those first-time delegates is David Betras of Boardman, Mahoning County Democratic Party Chairman.
"We've been busy even though the official start is" today, he said. "There's a lot of networking going on. [Today] starts the full program."
Also going for the first time is Sean T. McKinney, Youngstown's buildings and grounds commissioner.
"It's a huge responsibility," he said. "I am very excited to represent the area and the city. I'll have the opportunity to meet some of the decision-makers."
Ex-Gov. Ted Strickland, a former Valley resident, is scheduled to speak tonight at the convention.
Strickland, attending his fourth party convention and third as a delegate, said the event is "a time to get together with other people who feel passionately about Democratic values and is a time to connect with people across the country. ... It's a time to celebrate the principles of the Democratic Party: a commitment to justice and fairness."
Strickland plans to talk about the president's federal auto bailout and its impact on the economy, and contrast Obama with Mitt Romney, the Republican presidential nominee.
"Mitt Romney has chosen to make his bed with the extreme tea-party element" of the Republican Party, which is out of touch with Ohioans, Strickland said.
State Rep. Robert F. Hagan of Youngstown, D-60th, is at his fifth Democratic convention but his first as a delegate.
"Our tasks include generating enthusiasm for our base and getting people out to vote," he said. "Energy is the most important part of any campaign. We need to get people off their butts and get out to vote. ... The convention motivates me to motivate others."
Jaladah Aslam of Austintown, attending her second convention, said she was surprised at how busy it is to be a delegate. She was a delegate in 2008 and is one this year. Aslam is a staff representative for the American Federation of State, County and Municipal Employees Ohio Council 8 union as well as the Mahoning County Democratic Party's vice chairwoman of labor and president of the Youngstown-Warren Black Caucus.
"Your day is filled up with meetings," she said. "But it's important to make sure everyone understands the message, which is be unified and get out the vote."
U.S. Rep. Tim Ryan of Niles, D-17th, is at his third convention as a delegate.
"It's an opportunity for everyone to hear what the president has been able to do over the last four years," he said. "Given what the president was handed, he has made great strides for us. We have a long way to go, but it's important to determine who will lead us. The economy is so fragile. It's a serious issue and we can't go backward. To me, the convention is business."
Timothy Callion of Champion, a delegate for the third time, said the work is difficult but rewarding.
"People say, 'What's there to get excited about? We already know the nominee,'" said Callion, business agent for the Plumbers and Pipefitters Local 396. "But you get so energized at the event and come home and share that excitement. It's like a big pep rally for the party. Your job is to go back home and work to get the president re-elected."