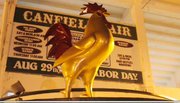 ---
Cleaning Up At The Fair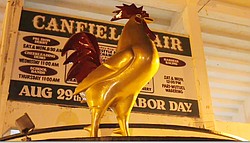 Video
Mountains of trash are produced every day at the Canfield Fair. Larry Bowman and his crew are experts at cleaning it up.
CANFIELD
As fairgoers leave the grounds, another group of people arrives.
They gather in front of the Colonial Inn at the Canfield Fair, chatting and laughing, but once the clock strikes 11 p.m., it's time to get to work.
Larry Bowman of Canfield will distribute shovels and leaf rakes to about 35 men, who by this time have divided themselves into teams.
Without another word of instruction, the groups disperse and begin raking the trash — including lemon rinds, cigarette butts and napkins — into piles in the middle of the roads that grid the fairgrounds.
Those with shovels will open garbage cans, or totes as they're called by crews, crunch down what's inside, scoop up the raked piles and dump them inside the totes.
The process repeats over all 178 acres of midway.
"We want it to look like the first day of the fair, no matter what day people come," fair manager Bev Fisher said.
After Allied Waste comes through and empties the totes, a street sweeper operated by local company Clean Sweep makes the grounds shine, she said.
"Another crew comes in at 4 a.m. just to make sure we are happy with it," Fisher said.
Official hours of the night crew are 11 p.m. to 6 a.m., but Bowman gives his crews an incentive.
"I pay them for eight hours whether it takes them two, six or eight to do the job, so there's an incentive to be efficient," he said.
Bowman used to be one of the guys with the shovel; his grandfather started the first night grounds crew, and Bowman was 14 when he started working it.
"I've only missed two years, when I was in the Army," said Bowman, who took over leading the crew in 1975.
Most of the men in the crew have been doing it at least a dozen years, Bowman said. It's not an official company — "all referrals," Bowman says — including a few family members and friends, who might be co-workers in their day job. A couple of the guys started a year or two back after they had been laid off and needed work.
The need for a night crew wasn't always apparent. When Bowman's grandfather assembled the first crew in the 1950s, coordinating with the fairgrounds managers, the garbage wouldn't be emptied until the end of the fair's run.
"The trash would gather all five or six days," Bowman said. "That's just how all fairs were back then."
Now, between 1,600 and 1,800 garbage totes are placed around the grounds, and each is emptied twice daily before Bowman's crew dumps them for a third and final time. More than 300 tons of waste are hauled away during the course of the fair.
During his tenure, Bowman has noticed that people don't litter as much as they used to, though if someone decides to set a paper cup, for example, on top of the trash can instead of in it, others will stack their trash up, too.
"For the most part, people do a good job putting stuff in the trash," he said.
Still, he and the crew have found everything from $20 bills to discarded diapers to strollers.
Rebecca Young runs a separate night crew, which has about 25 people, and is in charge of cleaning the grandstand, 4-H and commercial buildings, manure pits and taking care of the roll-off Dumpsters.
"Every day must look like the first day of the fair," she said, repeating Fisher's mantra.
Fair Board President Chuck Booth said the cleanup crews are indispensable to the fair's operations.
"They've been doing it so long they know just exactly what to do," Booth said. "It's very important that in the morning, it looks like no one's been there."
"If it wasn't for the night crew, I don't know what we'd do," he added.