Congress looks at sales taxes for online purchases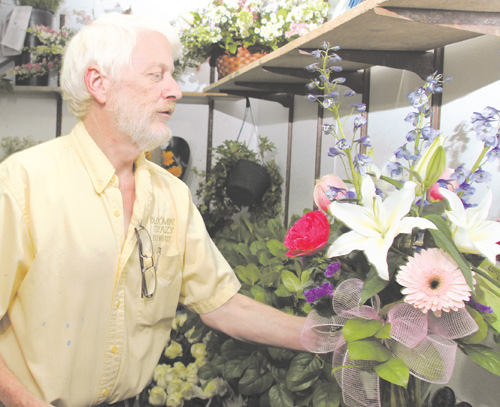 ---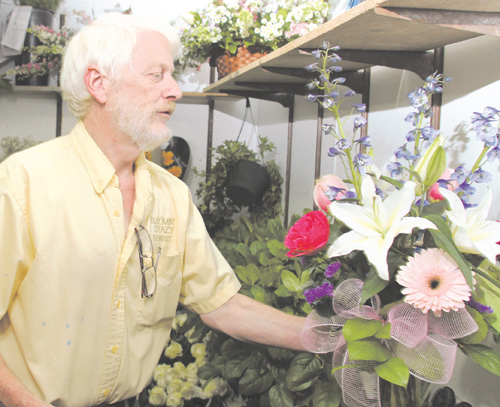 Photo
Gary Doles, owner of Bloomin' Crazy Florist, looks over an arrangement at his Boardman business. Doles said every business, including those online, should have to pay sales tax.
YOUNGSTOWN
Shoppers may soon find they're paying a little bit more for the book, jewelry, clothing or any other item they buy online.
Congress is considering the Marketplace Fairness Act, which would require companies that sell products online to collect state tax for the location where the purchaser is located.
The current law does not require companies to purchase sales tax in states where the company does not have a physical location.
Traditional brick-and-mortar retailers claim that online businesses maintain an advantage by not having to charge sales tax. Those supporting online businesses, however, believe changing the law would hurt small business by complicating online sales and slow economic growth.
Ohio estimates that $350 million in sales tax is lost to the state each year in online sales, said Gary Gudmundson, communication director for the Ohio Department of Taxation. That would amount to $2,975,000, based on the portion of sales tax that comes from Mahoning, Trumbull and Columbiana counties, he said.
Nationally, there seems to be more support to having consistent rules, Gudmundson continued.
The key is to ensure the tax can be collected in a way that is not burdensome for businesses, Gudmondson said.
"Every business should have to pay sales tax," said Gary Doles, owner of Bloomin' Crazy Florist in Boardman.
Those online companies are definitely competition to traditional businesses, he said.
"They make it look like you're getting this rare deal online, and in some ways you are, but in others you're not," Doles said. "You get what you pay for."
There is an impact on the floral industry, but there is probably a greater effect on businesses that do not have as much time sensitivity, he said.
For example, if the purchase is a book, it does not matter if it arrives in two or four days. If it's the same price with free shipping then why pay the 6 percent to 7 percent sales tax? Doles asked.
The sales-tax revenue also has been lost, he added.
"That's money that can't go toward programs to help people," Doles said. "It's just lost revenue."
It makes no sense to have two sets of rules — one for brick-and-mortar businesses and another for online sellers, said David French, senior vice president for government relations at the National Retail Federation.
"Something needs to be done to level the playing field," he said.
Jessica Melugin, an adjunct analyst at the Competitive Enterprise Institute, argued it would be burdensome to ask online retailers to keep up with the more than 7,400 different state and local taxing jurisdictions across the country.
"Consumers will experience remote taxation as a tax hike," she said. "Extracting more money from taxpayers to put in state and local coffers is, in plain fact, the objective of this [federal] legislation."
The National Conference of State Legislatures has estimated that during 2012 states will lose $23.3 billion in sales-tax revenue from out-of-state online sales and that is the reason this bill is moving forward, Melugin said.
French acknowledged the states' budget situations helped the bill to move forward but added that a number of online companies, such as Amazon, are considering changing their business model and they want certainty going forward and therefore are supporting the bill.
"Last year, Amazon received a bill for $268 million from the state of Texas for not collecting sales tax from Texas residents," French said. "Typically, sales tax is something that is collected from the purchaser and passed through by the retailer, but with Amazon that money would have had to come straight out of their bottom line."
The federal government does see this bill as a way to provide money to the states without increasing the federal budget, said Dan Navin, vice president of tax policy for the Ohio Chamber of Commerce.
"Basic brick-and-mortar companies are generally in favor of it, even those with online components," he said. "From what I'm hearing, the companies with significant online sales are split on the issue and [their support] depends on the size of the small-business exemption."
The small-business exemption would allow companies below a certain sales figure to continue to operate as they do currently. The exception could be $500,000 in annual sales or it could go up to more than $1 million, Navin said. There are a number of businesses that could be impacted by the bill based on the amount of the exception.
"It's easy to see the side of the brick-and-mortar businesses who see that online retailers are able to sell the same or similar products without charging sales tax," Navin continued.
It is more difficult to see the perspective of online retailers, which have increasing sales and are providing economic growth, Navin said.
There is some idea that it would be a bad time to "upset the apple cart" and change rules for those businesses, he said.
The Ohio chamber's tax board will continue to look at the issue, but it has not taken a position on the bill, he said.