Dr., Mrs. Hanzely mark 50th year of their marriage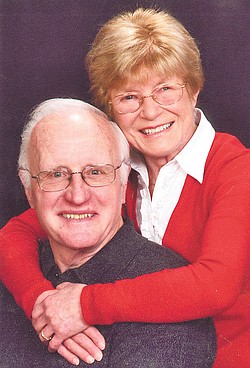 Photo
Dr. and Mrs. Stephen Hanzely
POLAND
The family of Dr. Stephen and Brigitta Hanzely of Poland honored the couple with an outdoor picnic Aug. 11 for their 50th wedding anniversary.
The home of the Hanzelys' son-in-law and daughter, George and Melinda Winsen of Boardman, was the site of the event. Also hosting were the couple's other daughter and son-in-law, Erika Hanzely-Layko and Michael Layko of Apex, N.C.
The Hanzelys are the grandparents of four.
Mrs. Hanzely worked in the acquisitions department for the Maag Library at Youngstown State University before retiring in June 2002. She is a member of YSU Retirees Association and the Mahoning County Watercolor Society.
Dr. Hanzely was a physics professor at YSU and also retired in June 2002. He belongs to the YSU Retirees Association and Mahoning County Habitat for Humanity.
The former Brigitta Strammer married Dr. Hanzely on Aug. 25, 1962, at the Holy Cross Church in Euclid.