By Tom Williams
YOUNGSTOWN
Boardman@Mooney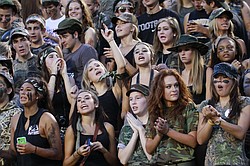 Gallery
Infuriated by last week's 31-7 loss to St. Ignatius in Cleveland Browns Stadium, the Cardinal Mooney High football took out its frustrations on Boardman.
Three long touchdown runs plus a 69-yard punt return led the Cardinals (1-1) to a 37-0 victory on Friday at Youngstown State University's Stambaugh Stadium.
"We couldn't have another loss like last week," Mooney tailback Justus Ellis-Moore said after rushing for 185 yards and two touchdowns. "We had to get back on track."
The Cardinals senior called the Cleveland trip "frustrating. We didn't expect to come out as flat as we did."
Defensive end Marlan Everson, who recorded four tackles for loss, said surrendering 31 points to the defending Division I state champions "was on our mind all week. We had to come out and set the tone."
Mooney head coach P.J. Fecko said the romp "was a tribute to our team, refocusing themselves from last week and getting after it all week."
Neither offense found success for most of the first half. Then Mark Handel electrified the large crowd with a 69-yard punt return touchdown midway through the second quarter.
Despite the lopsided score, the Spartans twice came close to making big scoring plays
After the Spartans (1-1) endured three-and-out series just before halftime, defensive back Ryan Savage got his hands on a Denver Martin pass but couldn't hang on for an interception.
One play later, Ellis-Moore broke loose for a 37-yard touchdown and 14-0 edge.
In the third quarter, Spartans quarterback John Babos launched a pass into the end zone that went off the fingertips of wide receiver Les McIntosh.
The Cardinals, the defending Div. III state champions, seized control with 23 points in the final quarter. Ellis-Moore scored on a 42-yard run while Marcus McWilson broke free for a 53-yard score.
The Cardinals rushed 303 yards on 32 carries. The Spartans gained 135 yards on 45 carries.
Everson said he couldn't pinpoint one play that set the tone.
"I think it was all of them, they just piled on after a while," said Everson, whose older half-brother is J.T. Moore, a Boardman graduate playing for Ohio State. "We were able to keep them down.
"I should have done better, I think I should have had two-or-three more [tackles for loss]," Everson said.
Fecko said his squad found positives in the St. Ignatius loss.
"We didn't do the greatest job of executing and were caught out of position here and there," Fecko maid. "But our guys were able to see that and on film and learn from that, and take responsibility.
"We still have a long way to go."