Complaint involving inmate, 2 Mahoning deputies probed
Alleged Deputy Assault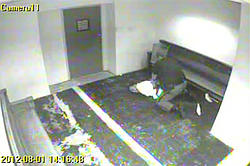 Video
This is a portion of the video released by the Mahoning County Sheriff's Office showing an altercation between a deputy sheriff and prisoner Duniek Christian in the county jail. The matter is under investigation.
YOUNGSTOWN
Internal affairs investigators at the Mahoning County Sheriff's Department are sorting through the details of an altercation that has sent two deputies home on administrative leave and facing the possibility of other sanctions.
Deputies William Horn and Kip Danks are both on paid leave until the investigation into a complaint filed by 27-year-old Duniek Christian, an inmate in the county jail, has been resolved.
Danks has been with the sheriff's department since June 1997, and Horn has been with the department since May 2000. Sheriff Randall Wellington said neither deputy has had any past disciplinary issues.
Christian was convicted earlier this month of felony failure to comply with the signal or order of a police officer and sentenced to three years in prison. He also is waiting to stand trial on a felonious-assault charge.
The sheriff said the alleged incident took place while deputies were transporting Christian to the Mahoning County Common Pleas Court for a hearing Aug. 1. Christian contends he was changing clothes, taking off the attire he wore to court and putting on the county-issued orange jumpsuit, when he was punched repeatedly by Horn in a holding area in the courthouse basement.
Horn, Wellington said, contends he was assaulted by Christian and defending himself.
"We started an internal investigation, and as a result of that investigation, we placed Horn and another deputy, Kip Danks, on administrative leave," said Wellington. "He claims he was assaulted by Deputy Horn. At the time, the incident was videotaped."
Wellington has released the videotape of the incident, and it can be viewed on Vindy.com.
The video, which has no sound, shows Horn and Christian in a room with an opened door. Horn grabs and pulls Christian, who fell to the floor. More words appear to be said, and Horn hits Christian about a half dozen times, then places Christian into handcuffs.
Another deputy, who could not be clearly seen, closes the door to the room as the altercation takes place.
Wellington did not say what role Danks played in the altercation, but he said the investigation is continuing and investigators will be questioning a number of deputies involved in the transportation process for jail inmates.
"Our investigation is broad because there were numerous deputies involved in the transportation and we have to question every one of them," said Wellington.
Wellington said penalties for the deputies, if found to be in the wrong, could range from suspension to termination or criminal prosecution.
Christian made local news in 2005 when he was accused of being involved in a rolling gunbattle with Youngstown police. In 2008, a jury acquitted Christian of charges related to shooting at police, but was "unable to decide" whether Christian was guilty of complicity with the three other men shooting assault rifles at the seven police officers.