Looking back at Mooney's state title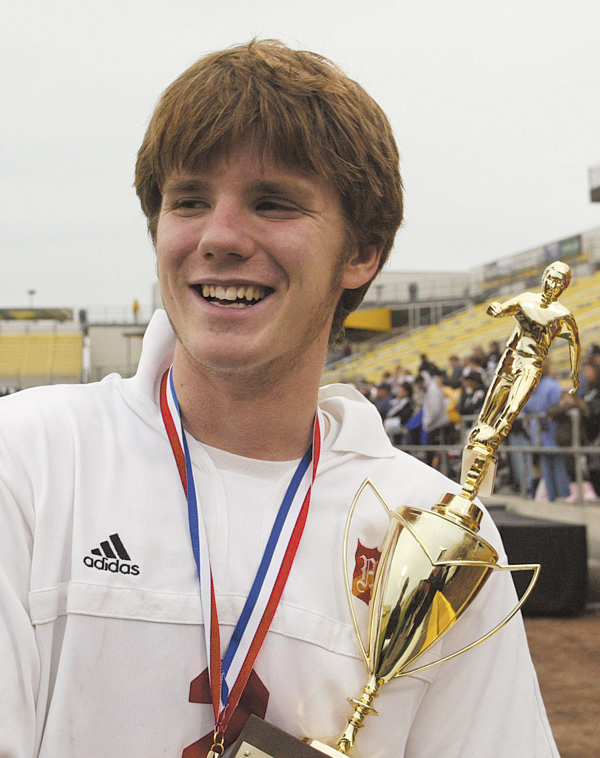 ---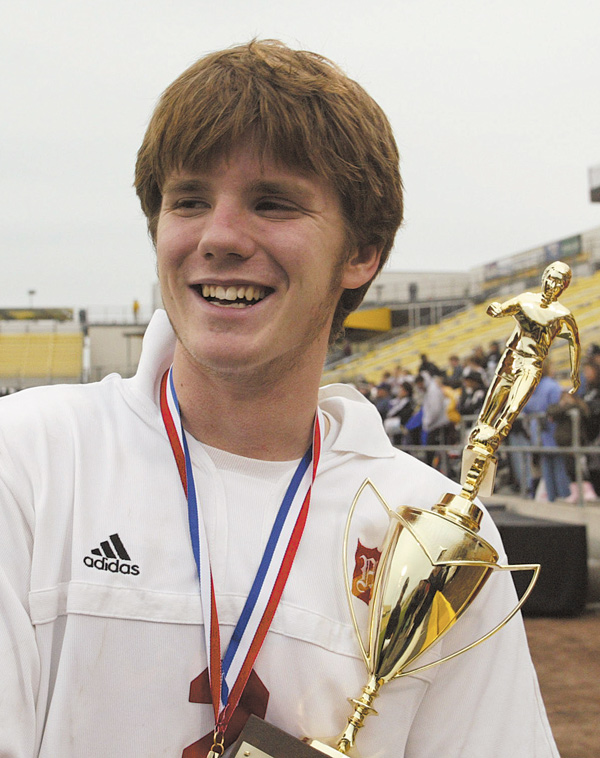 Photo
It has been a decade since a Valley soccer team won a state title when Pat Walker, above, and the Cardinal Mooney Cardinals downed Columbus DeSales for the Division II title in November 2002.
Players, coach behind remember Cardinals' 2002 championship run
By Ryan Buck
Youngstown
In the midst of one of the most daunting boys soccer schedules in the state of Ohio, Cardinal Mooney coach Lou Cali presented his team with a special video presentation at a midseason function.
The film, a 12-minute DVD, is a tribute to the program's 2002 squad: still the only state championship soccer team from the Mahoning Valley.
"It really pumped them up," Cali said of the video, which was produced by a local TV station. "There's not a whole lot of talking after watching that. Everybody just sits there and ponders how great it would be if we could be the second team to do it."
It's been a decade since the Cardinals' momentous run to the Division II state title, which ended in a 2-1 overtime victory over Columbus St. Francis DeSales at Columbus Crew Stadium. Their legacy still looms large over soccer in the Steel Valley and in the memories of those that lived it.
"It's gone so fast, I didn't even realize it's been 10 years," said then-coach Len Krispinsky. "It's probably one of the biggest thrills of my life to be a part of taking those kids down there and to play a team that had made 10 appearances in the state championship game. And for us, at the time, we were a nobody."
With the quality of soccer in the area at arguably its peak, the season's momentum gradually built on wins over Poland, Canfield (twice), and then a strong Lakeview squad in the district final.
In the regional rounds, they dispatched state powers Notre Dame-Cathedral Latin and Walsh Jesuit. The state semifinal saw Mooney, in what midfield workhorse Christo Frangopoulos called the best game he ever played in, come back in the final minutes to beat Granville, 2-1, in a driving rain on a muddy field on two Pat Walker goals.
"The majority of us had been teammates since the local youth leagues or in club soccer so we knew each other well on the field," said Frangopoulos. "We were all very competitive in nature and it showed in the tight games throughout the season."
The state final, played on a chilly November morning, revealed a team that came too far to lose.
"DeSales scored in the first 90 seconds of the game," said Krispinsky. "It was like, 'Oh boy.' But that group of kids had a chemistry. They trusted each other, they liked each other, and that was what brought us through."
Tim Reigrut, a relative newcomer to the goalkeeper position, was steadfast. Walker again netted both Mooney goals, the second of which he scored deep into overtime.
His strikes came with assists from perhaps the greatest soccer talent to ever come out of Ohio.
Kenneth "Kiki" Willis ended his high school career as the state's leading goal scorer and was Ohio Player of the Year four times.
"Kiki was a player that comes around once in a lifetime," said Frangopoulos, still in awe of his teammate's speed and ability to break down defenses.
Krispinsky, who led two more Mooney squads to state title games and began a streak of 10 consecutive district titles between Divisions II and III, agrees.
"He's the kind of kid that every coach wishes he could coach," Krispinsky said.
Willis, who went on to play at Elon University and with DC United of Major League Soccer for a time, was the superstar in a lineup filled with great players.
"A lot of those guys pushed me to be a better athlete, pushed me to work harder on and off the soccer field, in the classroom as well," Willis said. "All my respect goes out to those guys."
Frangopoulos and Alex Simon comprised a strong central midfield, while Mark Seddon and DJ Meyers were tremendous on the wings. Mooney's defense conceded just 15 goals all season and just two in the state tournament, leading to a 21-2 overall record.
"The 2002 team really set the foundation for what our program's all about," Cali said. "We make no bones about it. Every year our goal is a state title and this year is no different. The kids look at it all the time, we talk about it all the time."