Shurmur confident after win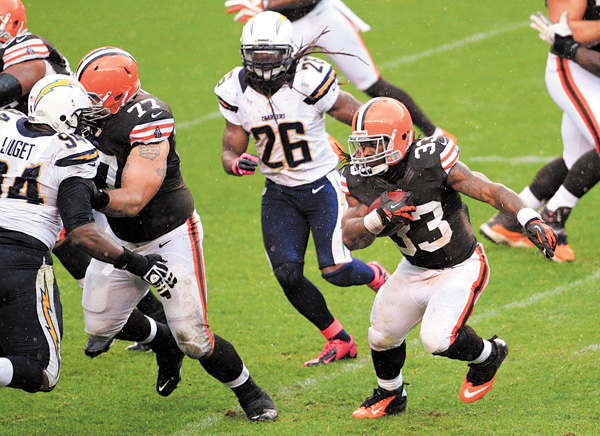 Photo
Cleveland Browns running back Trent Richardson (33) runs the ball against the San Diego Chargers in an NFL game Sunday in Cleveland. The Browns won 7-6.
Associated Press
BEREA
Halfway through his second season, Browns coach Pat Shurmur sees dramatic changes in his fledgling team.
The mistakes are fewer. The practices are crisper. The injuries are healing.
With two wins in their past three games, the Browns, yes, the Cleveland Browns, who have spent most of the past decade wallowing in defeat, are starting to build something. One of the NFL's youngest squads is growing up, and the Browns (2-6) are beginning to believe they can do much more than compete on a weekly basis.
Shurmur has his team feeling it can win — with him.
"Obviously, record-wise we're not where I want to be right now," Shurmur said Monday. "But I see a team that's improving. I see a team that's battling. I see a team that's with me every step of the way. And they believe in their coaches. And I see a team that's improving. I'm hopeful we're going to continue to make those improvements and win a heckuva lot of games."
Battling brutal weather conditions on Lake Erie, the Browns did just enough Sunday for a 7-6 win over the San Diego Chargers, who seemed as if they couldn't wait to get out of the cold and rain and back to the West Coast. With their passing attack grounded by high winds, the Browns turned to running back Trent Richardson and the rookie piled up a season-high 122 yards on 24 carries and scored the game's only touchdown on a 26-yard, tackle-busting romp in the first quarter.
It was a game where points were precious, where every inch, foot and yard had added meaning. And unlike a week ago, when rookie Josh Gordon's drop of a certain touchdown pass cost the Browns in a 17-13 loss at Indianapolis, the Chargers made the game's biggest mistake as wide receiver Robert Meachem let a TD pass slip through his wet hands.
"The football gods looked down on us," Shurmur said. "It wasn't pretty, it wasn't perfect, but it's something that we can build on."
The Browns showed some signs of maturity in winning their second straight game at home. They handled the nasty conditions, were called for just four penalties and did not commit a turnover, recovering two fumbles.
Shurmur has been criticized for pointing out progress following losses, but there's no denying the team made positive strides Sunday.
One of the biggest improvements came after the game. As Shurmur was about to announce, "See you Wednesday" and give his players a "victory" Monday off, he was interrupted by some of the Browns who told him they wanted to come to work and begin preparing for Sunday's game against the Baltimore Ravens.
For Shurmur, that was a sign of his team's evolution.
"The fact that they wanted to do it the last week in October says a lot," Shurmur said. "I've been around a lot of other good teams that will do whatever they can to get a 'see you Wednesday.' That shows me that there's a level of maturity there. It shows me that these guys understand the importance of work."