Lakeview boys not satisfied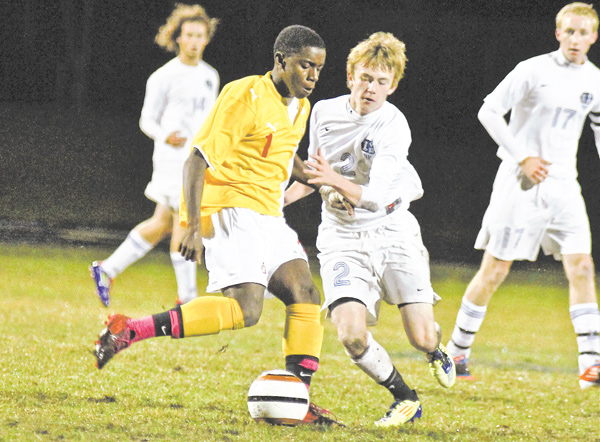 ---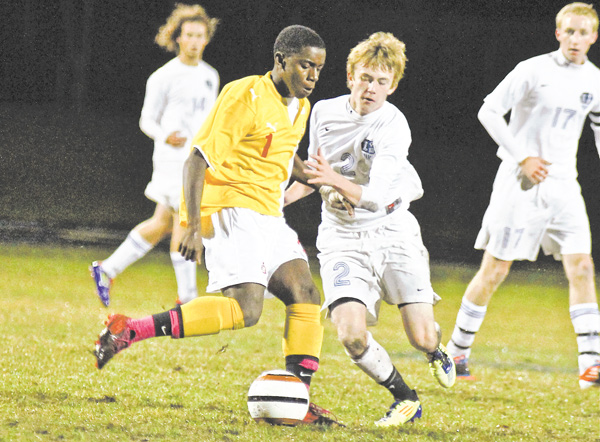 Photo
Lakeview sophomore Matt Pasternak (2), shown here battling Mooney's Myles Harris for the ball during Saturday's district final, is second in the state in assists with 24 this season. The Bulldogs play CVCA in Wednesday's regional semifinal.
By Joe Scalzo
If you're wondering how to put together a district championship soccer team, Lakeview High boys coach Nate Mailach has a simple formula.
Step one: Don't fall behind.
Step two: Don't give up more than one goal.
The Bulldogs have played 19 games this season and have trailed for all of 35 minutes. It came in their only loss, a 2-1 defeat to Champion on Oct. 11. It was also the first and last time they gave up two goals in the same game.
Thing is, if the Bulldogs are going to beat perennial state power Cuyahoga Valley Christian Academy in Wednesday's Division II regional semifinal, they might need to rally.
Not a problem, Mailach said.
"We're prepared if we get behind," he said. "We watched the mistakes we made against Champion. Too many guys were trying to do it individually.
"We've learned from that. It was a good wake-up call for us."
This is Lakeview's second straight trip to the regional semifinals. Last year, Mailach said, the Bulldogs were happy just to be playing.
Not this year.
"The guys are determined to win this game," said Mailach, whose team lost 2-0 last season to Richfield Revere, the eventual state runners-up. "We know CVCA is a traditional powerhouse. They won the state championship in 2010 in Division III and now they're in Division II, so we know we have our work cut out for us.
"But we want to see how far we can get."
Junior Colton Ainsley leads Lakeview's attack with an Ohio-best 39 goals. Senior Jake Young, the Division II district player of the year, has 20 goals and 14 assists and sophomore Matt Pasternak has 24 assists — the second-highest total in the state.
The Bulldogs also got a boost from the return of senior captain Jacob Colbrunn, a four-year starter who missed half the season with a fractured tibia.
"He's not 100 percent but him at 80-85 percent is better than what a lot of other teams have at that spot," Mailach said of the defender.
Lakeview (18-1) was ranked sixth in the state in the final Ohio coaches poll, while CVCA (12-6-0) was eighth.
But after the Royals knocked off Revere (the state's top-ranked team) 2-0 in the district final, Mailach knows it's going to take a huge effort to move on.
"We need to attack with numbers, instead of just attacking with one guy or two guys," he said.
"The conditions outside probably aren't going to be real favorable for soccer, so probably the team that perseveres and digs deeper is going to win."