Canfield plays consistent Cards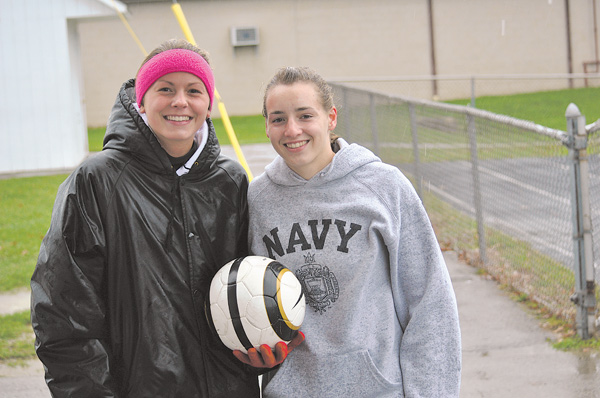 ---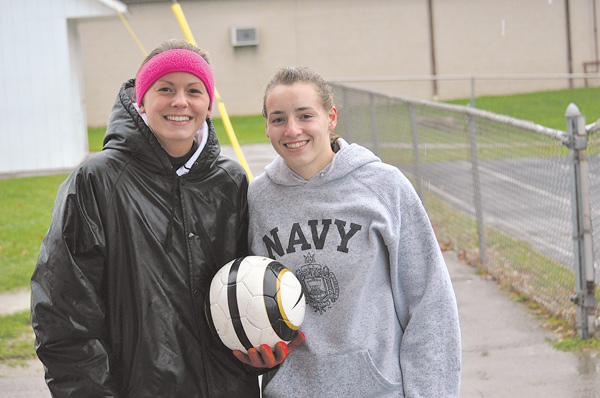 Photo
Kaylee Buchenic, left, and Jen Morris are senior captains on the Canfield girls soccer team. Buchenic and Morris have been varsity players since they were freshman. They've been a part of three district championship teams. Now, the Cardinals gear up for the Division II regional tournament. They face Hathaway Brown tonight in Ravenna.
CANFIELD
Before his team practiced on Monday, Canfield soccer coach Phil Simone tried to bribe the school's volleyball coach, John Tokash.
"I said, 'you can coach the soccer team,'" Simone said, laughing, "'And I'll go inside, stay warm and coach volleyball.'"
All joking aside, Simone wouldn't trade his spot — a third berth in the Division II regional tournament — for anything. Neither would the Cardinals.
"We want it so bad," senior Kaylee Buchenic said. "So, we'll definitely be out here in this awful weather to make it happen."
Buchenic and fellow senior Jen Morris have been playing varsity all four years and first got a taste of regionals in 2009 when Canfield advanced to the regional finals.
It was eliminated by Walsh Jesuit.
Last year, the Cardinals fell in the first round of regionals to Walsh Jesuit, again.
If they can get past Hathaway Brown tonight in Ravenna, the Cards will likely play the Warriors Saturday.
"They're the ones we're after right now," Buchenic said. "Without looking too far ahead because we have to get past Hathaway Brown, but we have a lot of potential so hopefully we'll do something with that."
Buchenic already has — she's forgotten.
"If you want to keep moving forward, you have to let go of the past," she said. "With a different attitude, we're confident on what we can control."
Canfield (16-3) scored 22 goals in its three district tournament games. However, defense has been the Cardinals' key.
They're riding an eight-game streak of holding opponents scoreless. It dates back to Sept. 24 when they lost to Howland, 3-1.
"That loss gave us a tie for the AAC Championship," Simone said. "We switched up a couple of things defensively after that and it has carried us. We've changed where we play offensively, too, so we're a little more high-pressured up top.
"The philosophy is, let's play defense farther away from our goal."
That's where Buchenic and Morris especially come in handy. They're both midfielders.
"We have a great role in this," Morris said. "We're make sure our transitions are good and we're playing up and getting back when we need to. We've been fine-feeding passes and we make sure we're not just nailing it up there."
Junior Paige Bidinotto is the team's leading scorer with sophomores Bailey Fischer and Sophia Mancini and senior Jen Love as other threats.
"It's not one stud that you can mark that down," Simone said. "They're coming from different angles and it's tough to stop them all."
Kelsey Yankush, Elena Billy, Erin McGraw and Haylee Klacik are other underclassmen making an impact.
"I'm not afraid at any point in the game to make a switch from the bench," Simone said.
This is the first year Canfield hasn't faced Hathaway Brown in the regular season. The past three years, the Blazers have won two and tied one with the Cardinals.
"I saw one of their scrimmages," Simone said. "And we did have somebody up watching their last game. I think we match up pretty well."
Simone is in his 19th year with Canfield and fifth coaching the boys and girls teams.
He said this group of girls has matured over the past year, is fast and gets along well with each other.
"They want to make history," Simone said. "No girls team from the Youngstown area has ever made the state semifinals. They're set on accomplishing that goal."
That alone should be worth a few more weeks practicing in the dreary weather.