Biden, Clinton praise Obama at Valley rally
BIDEN CLINTON RALLY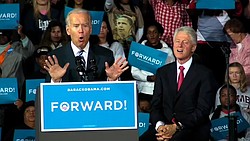 Video
Vice President Joe Biden and President Bill Clinton were in Youngstown today.
Vice President Joe Biden and President Bill Clinton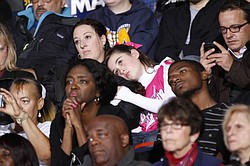 Gallery
YOUNGSTOWN
Vice President Joe Biden and former President Bill Clinton took turns praising President Barack Obama's policies, and criticizing the Republican ticket of Mitt Romney and Paul Ryan.
Biden said Monday at a rally at the Covelli Centre in this Democratic-dominated city, eight days before Election Day, that "Romney will say anything, absolutely anything to win, it seems. But he can't hide from the truth."
Biden specifically was talking about the Republican presidential nominee's statements on the $82 billion federal government auto bailout in 2009 of General Motors and Chrysler.
The auto rescue is a hot-button issue nationally, but particularly important in the Mahoning Valley with the Chevrolet Cruze, the top-selling small car in the United States, built at the Lordstown GM complex. The facility employs about 4,500 workers.
Monday's rally was supposed to feature Obama and Clinton, but instead the president chose to return to the White House after an Orlando, Fla., event earlier in the day with Clinton to monitor Hurricane Sandy, a major storm hitting the East Coast.
Replacing Obama, Biden made his third campaign appearance in the Mahoning Valley. It was the first time Biden and Clinton campaigned together this year.
"I know you were expecting the real president, the present president," Biden said to a crowd of about 4,800 at the center.
"He's doing the job the president is supposed to be doing," Biden said of Obama.
Both Biden and Clinton commented about Romney's latest TV commercial that states Chrysler is "going to build Jeeps in China." Romney, the former governor of Massachusetts, said last week in Defiance, Ohio, that he read an article that Jeep "is thinking of moving all production to China."
A spokesman for Jeep said the company has no intention of shifting production out of North America, and is exploring the option of reopening its China operations.
Clinton called the ad "the biggest load of bull."
As for Romney's position on the bailout, Biden said only Romney "could think that liquidating an industry is the same thing as saving it."
In response, Christopher Maloney, a Romney spokesman, said Biden "falsely claimed that Mitt Romney wanted to liquidate the auto industry, and was dishonest about the administration's own record."
Maloney added: "The Obama campaign is less concerned with engaging in a meaningful conversation about his failed policies and more concerned with arguing against facts about their record they dislike," and referred to the "attacks" by the Obama campaign as "desperate."
Most polls have Obama and Romney in a statistical dead heat in Ohio, considered one of the most important states up for grabs in this presidential election.
On the key issues — the economy, health care and energy — Obama is the better choice, Clinton said during his 33-minute speech.
Also, Clinton said Obama inherited a historically bad economy from former President George W. Bush, and Republicans are blaming him for not making a fast enough recovery during his nearly four years in the White House.
"Not a single person who's ever served as the president of the United States, including me, could have repaired all that damage in four years," Clinton said.
Biden sounded familiar themes while attacking Romney, saying he was willing to bend on foreign policy, but not on women's issues. He also attacked Romney's budget plan.
Biden said Romney and Ryan, a U.S. House member, are "running from their shadow, and you can't outrun your shadow."
As he wrapped up his 36-minute speech, Biden said, "America is not in decline," but Romney and Ryan "are in denial."
The numerous Democratic politicians at the rally said Clinton and Biden did an excellent job pointing out the differences between Obama and Romney.
"Clinton laid it out and Biden drove it home," said U.S. Rep. Tim Ryan of Niles, D-17th, who introduced the former president to the crowd. "Both of them hit Mitt Romney on his attempts to mask over his real positions, which got us into the jackpot in the first place."
Former state Sen. Harry Meshel, who led the crowd in the Pledge of Allegiance, said the rally helped "reaffirm" the president's positions, and contrasted it to Romney's record.
Mahoning County Democratic Chairman David Betras said after the event, "You felt the energy in here. The people of the Mahoning Valley love this president, love his policies."
Ex-U.S. Rep. John Boccieri said Clinton and Biden were "spot-on when it comes to what the auto rescue means to Ohio. The vice president and [Clinton] were very specific [that] America is not in decline and better days are still ahead."
Boccieri criticized Romney and Ryan for "running an extremely negative campaign."
Boccieri, who lost a re-election bid in 2010, said he used to work out with Paul Ryan when they served in the House together.
"I can bench-press 100 pounds more than him," Boccieri said with a laugh.