Sandy sidelines Obama; Biden to join Clinton here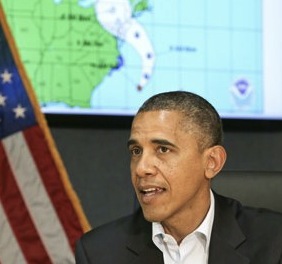 ---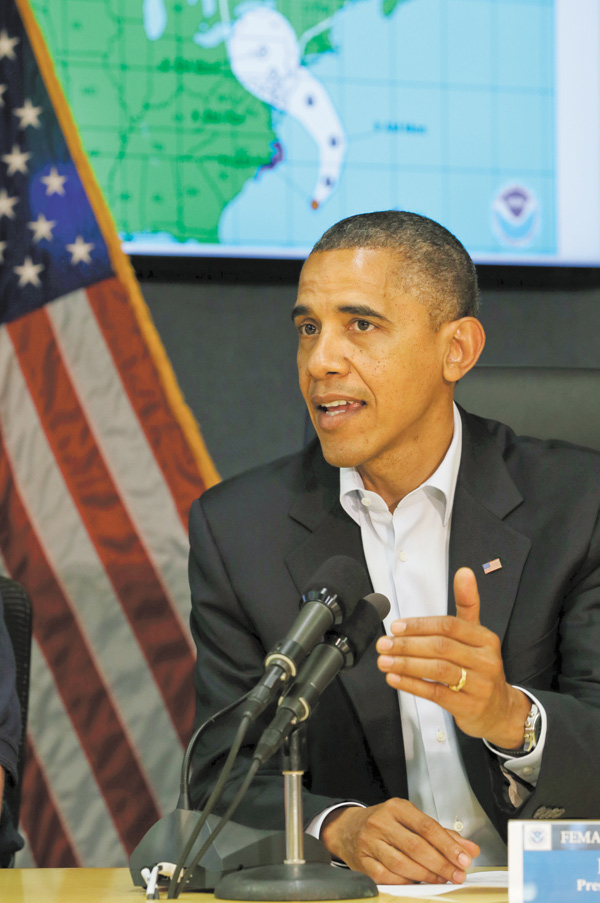 Photo
President Barack Obama speaks to the media about Hurricane Sandy at the Federal Emergency Management Agency in Washington on Sunday. Obama will forgo appearing with former President Bill Clinton at the Covelli Centre today. Vice President Joe Biden will join Clinton for the campaign event.
Staff/wire report
YOUNGSTOWN
President Barack Obama will not attend today's campaign rally at the Covelli Centre, opting instead to monitor Hurricane Sandy, which is currently forecast to make landfall along the Eastern Seaboard later today.
Vice President Joe Biden instead will appear with former President Bill Clinton at today's event, for which about 6,000 tickets were distributed Friday. Times for the rally were altered slightly by the Obama campaign Sunday night. Doors to the arena now will open at 2 p.m. today, with the rally starting about 3:30.
"An unprecedented hurricane is hitting the East Coast, and the president is still the leader of the country," said Dave Betras, chairman of the Mahoning County Democratic Party, after learning of Obama's change in plans. "He needs to be there to manage FEMA."
Rahm Emanuel, Chicago mayor and former White House chief of staff for Obama, was supposed to be downtown to campaign for the president at the Covelli Centre on Sunday afternoon.
Emanuel's appearance was canceled because of a scheduling conflict, organizers said.
Obama and Republican presidential candidate Mitt Romney frantically sought Sunday to close the deal with voters with precious few days left in an incredibly close race as this year's October surprise — an unprecedented storm menacing the East Coast — wreaked havoc on their best-laid plans.
Ever mindful of his narrow path to the requisite 270 electoral votes, Romney looked to expand his map, weighing an intensified effort in traditionally left-leaning Minnesota. Obama sought to defend historically Democratic turf as the race tightened heading into the final week.
Wary of being seen as putting their political pursuits ahead of public safety, the two White House hopefuls reshuffled their campaign plans as the storm approached. Both candidates were loath to forfeit face time with voters in battleground states such as Virginia that are likely to be afflicted when Hurricane Sandy, a winter storm and a cold front collide to form a freak hybrid storm.
"The storm will throw havoc into the race," said Sen. Mark Warner, D-Va.
Obama, preparing to depart for Florida on Sunday, a day early to beat the storm, got an update from disaster relief officials before speaking by phone to affected governors and mayors.
"Anything they need, we will be there," Obama said. "And we are going to cut through red tape. We are not going to get bogged down with a lot of rules. We want to make sure that we are anticipating and leaning forward."
An opportunity for Obama to demonstrate steady leadership in the face of crisis was offset by the risk that the federal government, as in past emergencies, could be faulted for an ineffective response, with the president left to take the fall.
Obama planned to return to Ohio on Wednesday with stops in Cincinnati and Akron, followed by a Thursday swing through Springfield, Ohio, Boulder, Colo., and Las Vegas.
Romney nixed three stops in up-for-grabs Virginia on Sunday, opting instead to campaign with running mate Paul Ryan in Ohio before heading today to Wisconsin, where Romney has chipped away at Obama's lead.
"I know that right now some people in the country are a little nervous about a storm about to hit the coast, and our thoughts and prayers are with people who will find themselves in harm's way," Romney told several hundred supporters crowded into a field house at the University of Findlay, the second of three Sunday rallies.
Romney's campaign confirmed Sunday that he would not travel to New Hampshire on Tuesday as planned. The campaign already canceled a Monday event in New Hampshire featuring Romney's wife, Ann. Advisers say further travel changes are likely as they monitor the storm's progress.
Vice President Joe Biden canceled a Monday event in New Hampshire. "The last thing the president and I want to do is get in the way of anything. The most important thing is health and safety," Biden said.
Ryan planned to leave Ohio at midday for three stops in Florida. His Tuesday schedule, however, shifted him to stops in Colorado instead of Virginia.
The prospect that bad weather could hinder early voting and get-out-the-vote efforts is vexing to both Obama and Romney.
"Obviously, we want unfettered access to the polls, because we think the more people that come out, the better we're going to do," said David Axelrod, a top adviser to Obama's campaign. "To the extent that it makes it harder, that's a source of concern."
In Virginia, one of the most competitive states in the race, election officials eased absentee voting requirements for those affected by the storm.
"The state board of elections is already planning for extended hours in advance for absentee voting, and it's now a priority, moved up to the same level as hospitals and police stations to have power restored," said Gov. Bob McDonnell, a top Romney ally.
Bringing up a safety concern, Virginia Senate candidate Tim Kaine's campaign urged supporters to remove their political yard signs. "Due to the potential for strong winds in this storm, the last thing we want is for yard signs to become projectiles," said campaign manager Mike Henry.
Getting voters to the polls — whether early or on Election Day — is one of the few elements of the race still in the candidates' control. Although Romney and Obama are in a close contest for the popular vote, the president continues to have the upper hand in the most contested states.
Reince Priebus, the GOP chairman, pointed to recent gains for Romney that have lifted him to a virtual tie in most national polls. "The challenger always wins in a tie race," he said.
With time running out, both campaigns appeared to be fine-tuning their map of the states where they're campaigning the hardest.
A senior Republican official, speaking on the condition of anonymity to disclose private deliberations, said Sunday that the Romney team was seriously discussing sending Romney, Ryan or both to Minnesota during the final week. The state hasn't gone Republican in the presidential race since 1972, but recent polling shows a tighter race there than most anticipated.
In a flashback to the 2008 race, Obama's campaign announced that Biden will campaign Thursday in Pennsylvania, reprising a visit to his hometown of Scranton that he made during the final week four years ago. Pennsylvania, too, has been Democratic territory in recent years, but Romney has continued to contest the state with an advertising assist from the Republican Party.