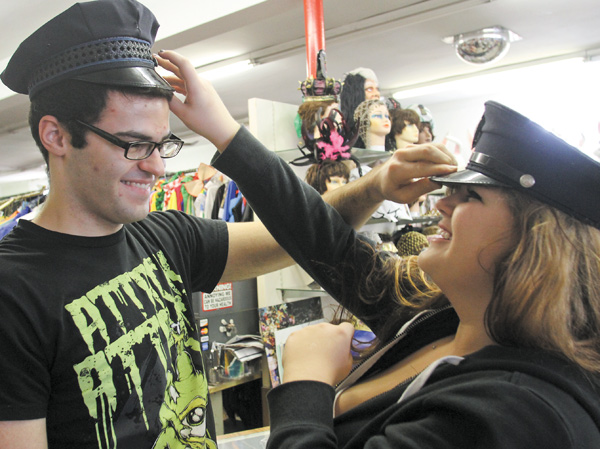 ---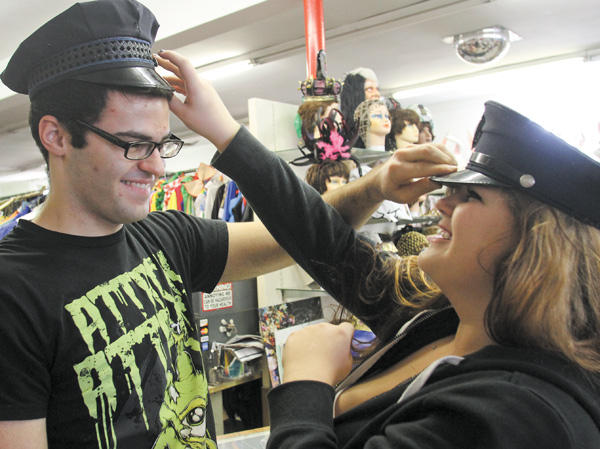 Photo
Matthew Davis of Cortland and Elise Campbell of Warren try on police hats at Ward's Costume Shoppe in Niles. Spending for Halloween is increasing.
Stores see increase in sales for Halloween items
YOUNGSTOWN
National trends show that spending is increasing for Halloween, and local stores are feeling the impact.
There are a lot more people decorating for Halloween, said Shirley James, owner of Ward's Costume Shoppe Inc. on Robbins Avenue in Niles.
"This year's costume shopping season has been a little slow because people are waiting until the last minute," she said.
People often wait to shop for costumes. Overall the industry has changed over the years, and for the last few years, most people have wanted to buy
costumes instead of renting them. There also has been more competition from the "pop-up" seasonal stores, James said.
People also are starting to request things they may not have had years ago, such as costumes for their pets, she said.
According to the National Retail Federation, 15.1 percent of people who celebrate Halloween dress their pet in costume.
"I have an employee with five dogs, and she dresses them all up," James said. "Halloween is like Christmas for adults. They don't have any stress. They don't have to put up the tree, buy the presents or wrap the presents. They just get to relax and have a good time."
This year, students in particular are being creative, wanting comic-book or other fantasy-character costumes, James said.
"They come in with pictures of their idea, and we do the best we can to match them," she said.
In terms of decorations, it's not just ghouls, ghosts and graves dominating sales.
There is definitely more spending activity for decorations occurring prior to Halloween, said Tim Parks, owner of Parks Garden Center in Canfield.
"I don't like to call it Halloween decorations. I refer to them as fall decorations, because people can put them up before Halloween, and they work for both holidays," he said.
They purchase items such as gourds, corn stalks, pumpkins and Indian corn, Park said. By combining decorations for both Halloween and Thanksgiving, people can save a lot of money and buy items that were produced locally.
"For $25 to $40, everyone in the family can have what they want," he said.
For the last 30 years, the idea of decorating homes for the fall season has continued to grow, he said. "I look at Thanksgiving like its a forgotten holiday. A few days before Thanksgiving, if the weather's nice, people already call us about their Christmas greens," Park said. "The Christmas season starts the day after Thanksgiving."
The increase in Halloween spending even has made its way to premium chocolate makers whose products seldom end up in children's bags of Halloween candy.
There is a slight increase in sales associated with Halloween, said Jack Peluse, director of operations for Gorant Choco- latier. The holiday still lags behind Christmas and Easter for sales of premium chocolate.
"We typically make sales the last week before Halloween where someone will come in and pick up one of our specialty items like a caramel-covered apple or pick up chocolates for their Halloween party," he said.
Gorant also sees a small increase in sales through molded chocolates shaped like ghosts and goblins, Peluse said.
In stores, there is more mass-produced candy for Halloween on the shelves now than ever, he said.
A record 170 million people plan to celebrate Halloween this year, according to National Retail Federation's 2012 Halloween consumer spending survey conducted by BIGinsight. More than seven in 10 Americans will get into the haunting Halloween mood, up from 68.6 percent last year and the most in the retail federation's 10-year survey history.
Consumers also are expecting to spend more; the average person will spend $79.82 on decorations, costumes and candy, up from $72.31 last year, with total Halloween spending anticipated to reach $8 billion.
"By the time Halloween rolls around each year, it's safe to say Americans have already spent two months preparing for one of the fastest-growing and most widely-loved holidays of the year," said Matthew Shay, president and CEO of the retail federation. "Retailers know that when it comes to Halloween, new costume ideas for children, adults and pets, and the latest in home and yard decor top people's shopping lists. We expect retailers to stock their shelves well ahead of time to capture the attention of eager holiday shoppers."
Of those celebrating Halloween, 51.4 percent plan to decorate their home or yard, which is up from 49.5 percent last year, and 45.0 percent will dress in costume, according to the survey. More than one-third of people expect to have or attend a party, and 33.2 percent will take a child or children trick-or-treating.
More like this from vindy.com