Koins for Kids helps children's hospital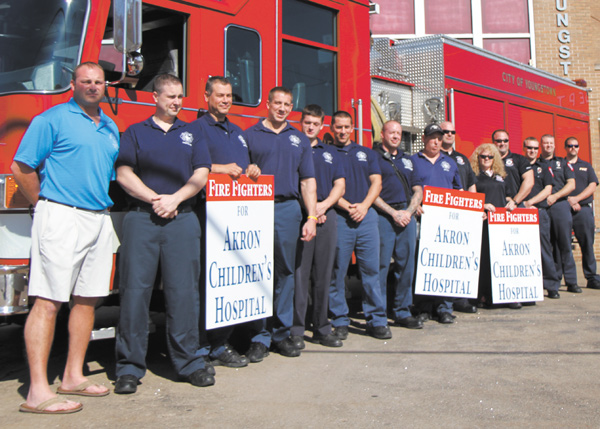 Photo
Members of the Youngstown Fire Department will be among nearly 10 fire companies that will be collecting donations at various locations Saturday to kick off Handel's Ice Cream's Koins for Kids campaign to raise money for Akron Children's Hospital Mahoning Valley. Their goal is to collect $100,000.
YOUNGSTOWN
Mahoning Valley school kids literally "nickel-and-dime" their peers to life by donating to Handel's Ice Cream's Koins for Kids campaign for Akron Children's Hospital Mahoning Valley.
A firefighters "boot drive" in Mahoning and Trumbull counties Saturday will kick off Handel's 2012 Koins for Kids fundraiser.
Firefighters from nearly 10 fire companies will be collecting money at various locations from 10 a.m. to 2 p.m. to get the fourth annual Koins for Kids off to a good start, said James J. Brown, chief operating officer for Handel's Homemade Ice Cream & Yogurt in Canfield.
The school fundraisers begin Nov. 27 after the Thanksgiving break and end Dec. 7.
The first three Koins for Kids campaigns raised over $80,000. The expectation is to crack the $100,000 mark with the 2012 effort, Brown said.
"What is incredible is that most of the donations have come in the form of nickels, dimes, and quarters," Brown said.
"The money is primarily earmarked to help Akron Children's provide care for children whose families have no insurance. The school kids understand they are helping other kids. I don't know if there is a better lesson we can give them," he said.
Brown credited the growing participation of fire companies in the boot drive to Youngstown Fire Department Capt. David Cook, who coordinates the one-day effort.
"Kids and firefighters are a natural fit. And people can be confident of where their money is going," said Cook, president of International Association of Firefighters Local 312.
Brown said Friday is the deadline for schools to register for the Koins for Kids campaign. Information was mailed to the schools, but they also can call Handel's office for information at 330-702-8270.
He said the school staff members and students devise their own unique ways and incentives to collect money, such as penny wars and dress-down and hat days. They have a lot of fun, but they know at the end of the campaign when their gifts are pooled, the numbers are significant.
Also, every child who makes a donation receives a paper ornament with his or her name on it that is put on display at the school. It can then be taken home to decorate their Christmas tree as a reminder of their donation and that there are some kids in the hospital at Christmas, "which is no fun," Brown said.
In addition, on Dec. 12, 13 and 14, Handel's Koins for Kids radio-thon will take place from 6 a.m. to 6 p.m. on WKBN Radio live remote broadcasts where people can drop off donations and tell their stories.
Handel's stores also are collection points, and people can donate by sending a check or money order to Akron Children's Hospital Mahoning Valley, 6505 Market St., Boardman, OH 44512, attention Director of Development, and place Koins for Kids on the memo line, or to Handel's Ice Cream & Yogurt, 3830 Starr Centre, Canfield, OH 44406, with Koins for Kids in the memo line.