'Dance Moms' TV show finds rhythm on Stambaugh stage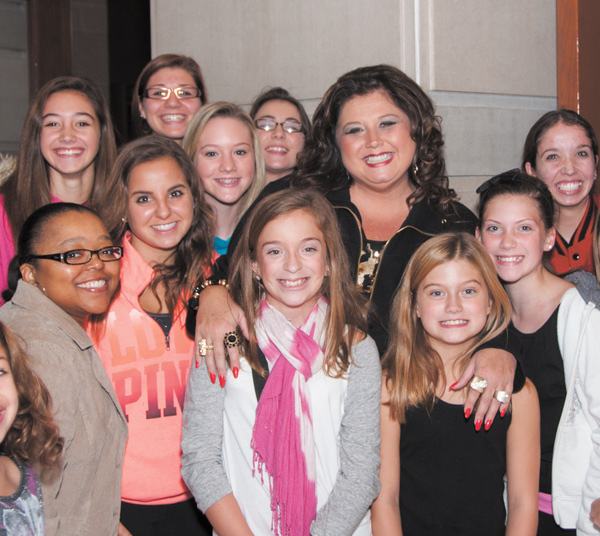 ---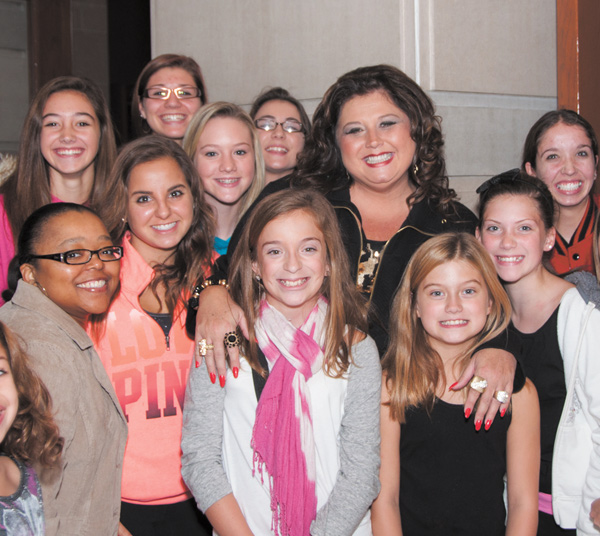 Photo
"Dance Moms" star Abby Lee Miller meets with her adoring fans during filming of an episode of the Lifetime reality show Sunday at Stambaugh Auditorium.
By ELISE McKEOWN SKOLNICK
YOUNGSTOWN
Abby Lee Miller entered the lobby of Stambaugh Auditorium and the shouts of "Abby!" and "We love you, Abby!" made it clear this wasn't an ordinary dance competition.
Miller, the star of the popular reality show "Dance Moms," as well as the cast and crew of the show, were in town Sunday to tape an episode that will air in January. Dancers from area studios competed with the dancers from the show at the taping of the In10sity Dance Competition. The show was meant to be filmed at a dance competition in Florida, but a suitable venue could not be found in that state.
Miller's no stranger to Stambaugh, though.
"We've never filmed a show in Youngstown," she said. "However, the Stambaugh Auditorium used to be my home away from home. I competed here back in the late '80s, '90s, probably every other weekend during competition season."
Miller grew up in Pittsburgh and now owns and operates Abby Lee Dance Company in the nearby suburb of Monroeville, Pa.
Though Sunday's show ran like any other dance competition — dancers took the stage in turn, performing solos or group routines, and three judges took notes and gave them scores.
But there was also a huge camera setup filming the entire production. When an Abby Lee Dance Company dancer took the stage, cheers filled the hall. And when a dancer, a dance mom from the show, or Miller was spotted in the hallways or lobby, audience members ran to take a wpeek.
The group from Abby Lee waved and even posed for a few pictures.
"Our day is made," said Debbie Johnson of Boardman after Miller stopped for a quick photo with Johnson's granddaughter.
She frequently watches "Dance Moms" with her granddaughter, Sammie Johnson of Canfield.
"It's a lot of fun," Johnson said. "It's something to share with her."
Her 8-year-old granddaughter has been dancing since she was 2. She dances with Jamie's Dance Force in Boardman, and has been competing for two years.
On "Dance Moms," events often lead to extreme behavior, including yelling and swearing. The students, age 8 to 15, often face harsh criticism from the mothers and Miller.
Sammie said she loves the dancers on "Dance Moms," but isn't fond of the mothers.
"I think [the mothers] could behave a little bit better in front of the kids," Debbie Johnson said.
Miller doesn't disagree.
"I agree it's too much for the kids, with the mother's mouths, and with them complaining and cursing, and all of those things. I think it's horrible."
However, she defends her own teaching methods.
"What I do in the classroom, I think it's perfectly fine," she said. "Because I have the success rate to prove it."
Her students are working as dancers worldwide.
Claudessa Tusinac of Youngstown said she and her daughter, Kenleigh, don't really pay attention to the moms, focusing instead on the girls on the show.
Kenleigh, 6, dances with Escape Dance Academy in Austintown.
She was excited to receive a hug from Miller.
The pair enjoyed watching the dancers from all the studios.
"Everything's been awesome," Tusinac said.
Jamie Cordon, owner of Jamie's Dance Force, brought her dancers to participate in the competition.
"I thought it was a once-in-a-lifetime opportunity that we shouldn't pass up," she said.
Dancing with the girls they see on TV will be a different experience for them, Cordon said.
"We feel very fortunate," she said. "We're lucky that [we were given] this opportunity."
Stambaugh sold 644 tickets for the show. Including participants, parents and dance coaches, approximately 1,200 people attended the competition. The episode taped will air Jan. 16.
"Dance Moms" is entering its third season on Lifetime.
"It's 100 percent real. And that's why it works," Miller said.