Clinton, Biden rally Democrats at the Covelli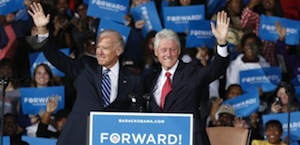 ---
President Bill Clinton and Vice President Joe Biden rallied Valley Democrats at the Covelli Centre.
"He's doing the job the president is supposed to be doing," Biden said of President Barack Obama, who opted out of Monday's rally to monitor Hurricane Sandy developments. Obama canceled his appearance yesterday, sending Biden to join the rally with the former president.
Biden sounded familiar themes while attacking Republican challenger Mitt Romney, saying he was willing to bend on foreign policy, but not on women's issues. He also attacked Romney's budget plan, saying it "isn't sketchy. It's Etch-a-Sketchy."
Biden said Romney and his running mate U.S. Rep. Paul Ryan are "running from their shadow and you can't outrun your shadow."
"America is not in decline," Biden said as he wrapped up his 36-minute speech. "Gov. Romney and Congressman Ryan are in denial."
"Obama's education plan is better for the future of America," Clinton told the crowd earlier. Later he said, "3 million young people have health insurance under their parents' health care plan for the first time."
Meanwhile, the Covelli Centre was over it's 4,500 event capacity, reports Dave Skolnick, on hand for the Clinton/Vice President Joe Biden rally.
About 8,000 tickets were distributed and at least 500 ticket-holders have been turned away, a source told The Vindicator.
While the Covelli managed to get capacity up to 4,800, reporter Danny Restivo is outside the Covelli and he reports hundreds are outside chanting "We want in!"
Ronald G. Norwood, who just moved to Youngstown from Florida, said he is a lifelong Democrat and he plans to address the situation outside the Covelli with Mahoning County Party Chairman Dave Betras.
"This is disingenuous at best and egregious at worst," Norwood said, adding "It just dampens my spirit."
Reporter Ashley Luthern said Harry Meshel led the crowd in the Pledge of Allegiance, the Rev. Georgina Thorton gave the invocation and Chiara Williams drew a huge applause from the crowd with her rendition of the National Anthem.
U.S. Rep. Tim Ryan got a rousing welcome.
Keep watching Vindy.com for updates on the rally all afternoon.