Author's memories are picture perfect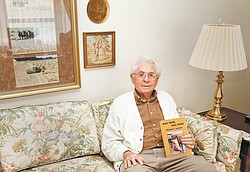 The Vindicator ( Youngstown)

Photo
Youngstown resident Michael Lacivita is the author of the book "Rag Man, Rag Man," which is available in the archives of 15 military museums and sites.
LOCAL AUTHOR'S BOOK
Availability
Michael J. Lacivita, a lifelong Youngstown resident, World War II veteran and author of the 2004 book, "Rag Man, Rag Man," spoke recently from his West Side home about his memoir, which is available in the archives of 15 military museums and sites. Locations and dates of entry:
Harry S. Truman Library, Independence, Mo., December 2009.
University of Minne- sota's Immigration History Research Center, Order Sons of Italy in America archives, Minneapolis, December 2010.
Motts Military Museum, Groveport, Ohio, January 2011.
The National World War II Museum, New Orleans, April 2011.
National Museum of the Pacific War, Fredericksburg, Texas, June 2011.
The American Legion National Headquarters Library and Museum, Indianapolis, November 2011.
Ohio Veterans Hall of Fame, Columbus, April 2012.
Veterans of Foreign Wars National Headquarters, Kansas City, Mo., July 2012.
Disabled American Veterans National Headquarters, Cold Springs, Ky., July 2012.
The Butler Institute of American Art, Youngstown, July 2012.
U.S. Naval Academy, Annapolis, Md., August 2012.
West Point Naval Academy, West Point, N.Y., August 2012.
Air Force Academy, Colorado Springs, Colo., August 2012.
U.S. Marine Corp. Headquarters, Quantico, Va., August 2012.
U.S. Coast Guard Academy, Washington, D.C., August 2012.
Source: Michael J. Lacivita
By Sean Barron
YOUNGSTOWN
If you fuse a love for reminiscing, storytelling, writing, collecting memorabilia, attending garage sales and growing 6-foot award-winning hot-pepper plants, you will have the essence of Michael J. Lacivita.
Any discussion about the 88-year-old Navy and World War II veteran, however, would be shortchanged without a mention of his love of photography — particularly of Amish farms.
A perfunctory glance at his living-room walls quickly reveals numerous pictures he's taken of Amish horses on many western Pennsylvania farms during the past 24 years. The framed photos are a handful of the thousands he has snapped — at least 400 of which have been published in Rural Heritage, Draft Horse Journal and a host of other magazines.
"I have a lot of respect for them," Lacivita said recently from his Eldora Drive home on the West Side, referring to the many Amish families he's met over the years who live in and near New Wilmington, Pa. "They treat me like a king."
Lacivita's interest in the Amish developed when he was baby- sitting one of his grandchildren in the late 1980s and read an article about an out-of-state photographer who took pictures of Amish people and converted the photographs to postcards.
Lacivita also spoke about his military service, his family, a book he had published eight years ago and the tall pepper plants next to the front of his residence.
For his part, Lacivita converted into a book many of his recollections of having grown up in an Italian-American family during the Great Depression and having served three years in the Navy, including a tour in the Asiatic Pacific Theater. Those and a wealth of other memories are chronicled in his 2004 memoir, "Rag Man, Rag Man," which is out of print but still available at The Butler Institute of American Art and online.
In addition, "Rag Man, Rag Man" is housed in the collections and archives sections of 15 military museums and locations in several states.
Lacivita, who retired in 1986 as a corporate safety and security director for Commercial Intertech, said he wants to get the book back in print and available nationally.
"I want the book to be successful to help my [four] grandchildren," two of whom are in college, he said.
Over the last 20 years, the octogenarian and lifelong Mahoning Valley resident also has had 241 letters and articles published in The Vindicator.
"I have so many stories. Wouldn't you know, I hated English in college," he said with laughter.
Lacivita, who served from May 17, 1943, to Feb. 20, 1946, in the Navy, also was inducted into the Ohio Senior Citizens Hall of Fame in 1996 and the Ohio Veterans Hall of Fame in 2004.
He shares the double honor with names such as Bob Feller, the legendary former Cleveland Indians pitcher; Woody Hayes, former longtime Ohio State University Buckeyes coach; John Glenn, former Marine Corps pilot, astronaut and U.S. senator; and Paul Brown, the Cleveland Browns' first coach.
If he's not writing, reminiscing or giving free presentations about his life to area nursing homes, high schools, American Legion members and other groups, Lacivita might be buying old books at local garage sales.
Or you might find him tending to his pepper plants, which have taken first-place honors for eight consecutive years in Canfield Fair contests.