Hvizdoses mark 50th with party and vows renewal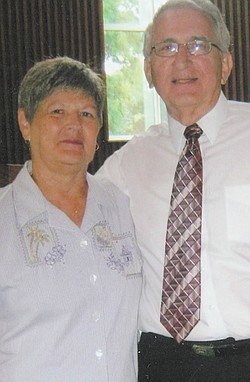 Photo
Mr. and Mrs. Paul Hvizdos
LOWELLVILLE
Mr. and Mrs. Paul Hvizdos of Lowellville celebrated their 50th wedding anniversary at a Hawaiian-themed party Aug. 19 at St. Charles Church, Boardman, hosted by their son and daughter-in-law, Jeff and Kim Hvizdos of North Lima, and grandchildren, Michael and Amanda.
The couple also renewed their wedding vows July 14 at St. Paul the Apostle Church, New Middletown, where they are members.
Mrs. Hvizdos, the former Ruthann Sharp, married Mr. Hvizdos on July 14, 1962, at St. Paul's, where he is a Eucharistic minister and is a member of its finance committee.
Mrs. Hvizdos was an administrative assistant in the report department for Hill, Barth & King CPA in Boardman for about 50 years and retired in 2005.
Mr. Hvizdos was a sales manager for Knesal Hardware, Petersburg, where he still works part time. He was a trustee at the Beight Farm establishment and is a member of Knights of Columbus. He served with the U.S. Army National Guard from 1957 to 1963.
The couple took an anniversary trip to Hawaii with their family, and they enjoy spending time at Geneva-on-the-Lake.