Rebels romp to first unbeaten season
By Tom Williams
COLUMBIANA
South Range @ Crestview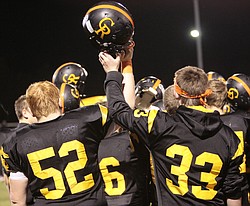 Gallery
Crestview ends regular season 10-0
In its first 10-0 season, the Crestview High football team hasn't faced much adversity.
It's hard to believe there was any challenge in Friday's 57-14 victory over South Range.
But early in the third quarter, the Rebels faced an unusual test after the Raiders' Jake Pfeifer recovered an onside kick (confirmed by an eight-minute conference by the officials).
"That was a situation where we really could have hung our heads and pouted," Crestview head coach Paul Cusick said. "Our guys responded on defense."
Even though the Raiders (7-3, 6-1 Inter Tri-County League Tier One) trailed 28-14, momentum was on their side. Before the trick play, sophomore quarterback Ryan Miller had connected with senior wide receiver Robert Seman for an 85-yard touchdown.
"We blew some coverages," Cusick said. "Our safety got real aggressive on the long pass play — he came flying up on the run-fake and created the seam."
Momentum shifted almost immediately as the Rebels (10-0, 7-0) regained control to seal their fifth straight league title. A three-and-out forced the Raiders to punt. On the next play, Raider quarterback Collin Gilbert zipped down the sideline for an 80-yard score.
On the Raiders' next series, junior linebacker Jake Ferris made his first of two interceptions. He was rewarded with the chance to score a 1-yard touchdown for a 42-14 lead.
On the next series, Ferris stole a deflected pass. Four plays later, Gilbert scored his fourth touchdown on a 9-yard run, erasing the memories of how well the Raiders had done in the second quarter when Seman caught four passes for 101 yards.
Miller was making his second varsity start, having replaced Ross Stoffer who broke his leg two weeks ago in the Springfield game.
Ferris said the Rebels went into the locker room ahead 20-7 knowing they needed to improve.
"We realized we had to cover Robbie Seman [better]," Ferris said. "He's a great receiver and we were having some trouble."
Seman also caught a 29-yard touchdown pass in the second quarter.
"He's one of the best receivers in the league," said Gilbert who is Seman's cousin. "We've always loved playing against each other.
"I texted him last night that [playing backyard games while] growing up was fun, but it doesn't get better than this game."
The Raiders' defenders were unable to contain the Rebels' rushing attack. Nick Blower gained 276 yards on 24 carries and scored three touchdowns. Gilbert finished with 158 yards on 13 tries.
"You can't simulate [their speed] in practice," said Raiders coach Dan Yeagley after a seven-game winning streak was snapped, costing them a playoff berth. "They are going to represent our league well in the playoffs."
Miller completed 11 of 22 passes for 242 yards.
"Ryan is a very good quarterback," Yeagley said. "He had a great leader in Ross, who was coaching him on the sidelines. We're looking forward to having [Miller] for the next two years."
Cusick said his team is not perfect.
"There are some things we can fix," Cusick said.