Smith's TDs give Tigers
AAC title,
playoff spot
By Steve Wilaj
Howland vs Struthers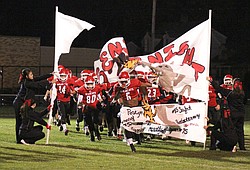 Gallery
Struthers
Friday night at Laddie Fedor Field, it was déjà vu for Struthers fans.
Hosting Howland (8-2, 5-1 All-American Conference, American Conference), the Wildcats (6-4, 3-3) were run over, through and around by De'Veon Smith, as the senior racked up 156 rushing yards and four touchdowns to lead the Tigers to a 35-20 victory.
The loss hurt Struthers' playoff hopes and Smith's performance likely brought back bad memories.
Just seven years earlier on the same field, his older brother Lance torched the Wildcats for 405 rushing yards and seven touchdowns in a 58-37 Tigers victory.
Howland coach Dick Angle compared the Smith brothers' performances.
"I told De'Veon, 'You didn't break your brother's record, but you put on a more dynamic performance than he ever did that night,' " Angle said.
Although the jury is still out, Smith's showing was, indeed, dynamic.
Held in check through the first half, the Michigan recruit had just 48 rushing yards with the game tied at 7.
And before Smith could touch the ball in the second half, a 61-yard TD run by Struthers' own dynamic halfback, David Stewart, put the Wildcats ahead, 14-7.
Then the show began.
Smith took the ensuing kickoff 78 yards to the end zone to tie the game. Four minutes later, he returned a punt 73 yards for a touchdown and 21-14 Howland lead.
"I was not expecting it to come straight to me, but suddenly it ended up in my hands," Smith said. "All the power goes out to my blockers on the kickoff and the punt return."
The special teams scores, which Angle called "the momentum changers" were not even supposed to be possible. Struthers coach Curt Kuntz said the Wildcats hadn't planned to kick at Smith.
"The first punt we got a little too much pressure and he had to get rid of it too soon," he said. "Then we were definitely going to kick it away from him [on the kickoff], but the squib got a good bounce to him and it was just one of those things."
From then on, it was all Howland and Smith. He added touchdown runs of 3 and 7 yards in the fourth quarter to secure a Tigers victory that clinched a playoff spot in Division II, Region 5 and the AAC American title.
"We definitely wanted to take it to them this game especially because we wanted that spot in the playoffs and the championship outright," Smith said.
Angle said the key to capturing the championship was his workhorse running back.
"De'Veon's a difference maker and a change maker," he said. "Our league is well-balanced and everybody's at the same peak, except we got the king."
Stewart continued his stellar season despite the loss. The senior rushed for 134 yards and a TD and also caught three passes for 68 yards and a score.
But with the playoffs at stake, this loss could linger with Struthers.
"Obviously disappointed," Kuntz said. "We said last Monday it was going to come down to special teams, and we didn't execute as well as we needed to."