Thousands line up for Obama-Clinton tickets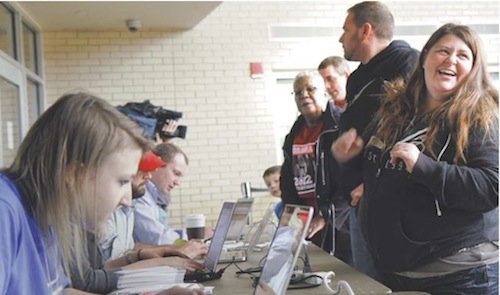 ---
YOUNGSTOWN
Bonnie Leaming of Austintown was first in line at the Covelli Centre to get a free ticket to see and hear President Barack Obama and former President Bill Clinton at a rally here Monday afternoon.
Arriving at 7:30 a.m., Leaming, 57, an Obama supporter, was among a crowd that had grown to about 500 by 11 a.m. They gathered Friday and formed a line that wound around the building. She said she likes the president's truthfulness and his record. "I feel he is somebody we can trust."
The crowd, a mix of black and white, young and old and ages in between, queued up to get tickets for what many view as a historic event and a rare chance to be in the presence of a sitting president and a former president at the same time. Ticket distribution, on a first-come, first-served basis, began at noon.
According to an Obama campaign spokesman, all of the tickets were distributed.
Obama and Republican Mitt Romney's meticulously arranged travel schedules, a crucial element of their final-stretch strategies, could be upended in the last full week before Election Day by a super storm barreling toward some battleground states.
Romney and Vice President Joe Biden both canceled weekend campaign events in coastal Virginia Beach, Va.
As of Friday afternoon, Obama's campaign had no plans to cancel any of the president's upcoming trips. He's scheduled to be in New Hampshire today. He also has stops planned Monday in Florida, Ohio and Virginia.
Star L. McGaha of Campbell had arrived at the Covelli Centre at 5:30 a.m. Friday and originally was first in line, but finding herself alone and in the dark, left and came back later to claim the fourth spot in the line.
"This is a once-in-a-lifetime event ... a part of history," said McGaha, 63, who believes the president has a good chance to win Ohio and another term in the White House.
"It's an historic event, and we want to make sure the president is re-elected," said Dianne DeEulio, in line with her friend Barbara Ruha, both of New Castle, Pa.
Obama has been in office four years and needs more to time to get the country out of debt, the Pennsylvania women said. They said they also are concerned about potential appointments to the U.S. Supreme Court if Obama is not re-elected.
Though most people interviewed see the race in Ohio between Obama and Republican nominee Mitt Romney as close, they all favored Obama's re-election.
They cited progress on the economic front and support of education, the middle class and women's issues as reasons for their support of the president.
Dorothy Pedro, 78, of Youngstown said more jobs are needed and believes the president is the best one to solve the problem.
"Everybody in my household wants to see the president re-elected," said Debra Green, 59, of Youngstown, who was "overwhelmed" that an African-American was elected president four years ago.
"He can't make jobs, but I believe his policies will eventually bring them. He saved Lordstown General Motors," Green noted.
Diane Durochia, 25, of Poland, a Youngstown State University business graduate who saw the president at YSU four years ago, is particularly looking forward to seeing Clinton.
"If Hillary [Clinton's wife] and Michelle [Obama's wife] are here, too, that would be the best," she said.
"I think the president is on the right path. He never forgot about Youngstown once he got in office, and he cares about the middle class," she said.
"In the end, I hope people will stop and think. The economy was broke when President Obama took office. All indicators say it is turning around. We need to keep him in office to keep it going," said Robert Dixie, 64, of Youngstown, who described himself as a "diehard Bill Clinton fan."
James and Mary Ann Theisler of Coitsville think the president needs four more years to continue the economic progress begun under his watch.
"I consider it an honor to be able to hear the president speak. It's the chance of a lifetime. I think he will protect Social Security and Medicare," Mr. Theisler said.
"I'm here to support my president," said Roy Yancey, 64, of Warren, showing a picture of his wife, Marie, with Obama, taken at GM Lordstown four years ago.
"He [Obama] saved my job," said Gary Bercheni, 36, of Warren, who works at GM.
Women's issues and financial help for students are among the reasons friends and fellow YSU students Jessica Johnson, 21, of Lisbon and Emily Kinnick, 20, of Austintown plan to cast their ballots for Obama.
"It's our generation's future," Johnson said.
Kinnick, whose mother is a schoolteacher, approves Obama's support of education. An Obama campaign volunteer on campus, she urged young voters to educate themselves on the issues and candidates and register to vote.
A lifetime-registered Republican, Donna Cooper, 69, in line with her sister, Deborah Dixon, 64, both of Austintown, said she will vote for the president because of the issues, especially education.
"I also like the way he thinks and cares about health care, women's rights and the middle class," said Cooper, a retired Youngstown City Schools teacher.
"The GOP is such a fringe party; it scares the hell out of me," said Dixon, a registered Independent all her adult life until registering as a Democrat last spring.
"What's going to happen to poor people if the safety net is removed? I don't see my contemporaries speaking out about women's rights and that worries me," Dixon said.
About 5,000 to 6,000 tickets were available for the rally, which is the first time Obama and Clinton have campaigned together since the Democratic National Convention. They were distributed at the Covelli Centre, 229 E. Front St., the Obama field office in Boardman, 4300 Market St., and in Warren at 155 S. Park Ave.
In Warren, hundreds of people stood in front of the Obama headquarters on South Park Avenue well before the 1 p.m. ticket giveaway started Friday. The line extended an entire city block east down Franklin Street for several hours.
Some Obama volunteers took advantage of the opportunity to get the crowd energized by leading chants of "Four more years" and waving Obama signs as they walked past.
Janet Valenta of Howland left the Obama headquarters about 3 p.m., saying she arrived about three hours earlier. She also drove past the offices about 10:30 a.m. and saw about 30 people waiting, most of them sitting in lawn chairs.
"You get to see two presidents," Valenta said of Obama and Bill Clinton.
"It's absolutely worth it," Nedra Blake said as she got close to the door after a several-hours wait.