Woman makes history on YSU police force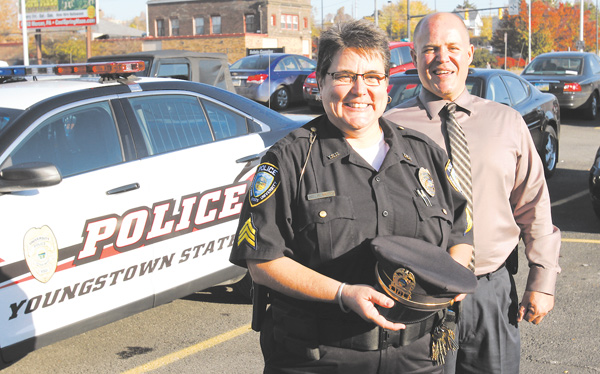 ---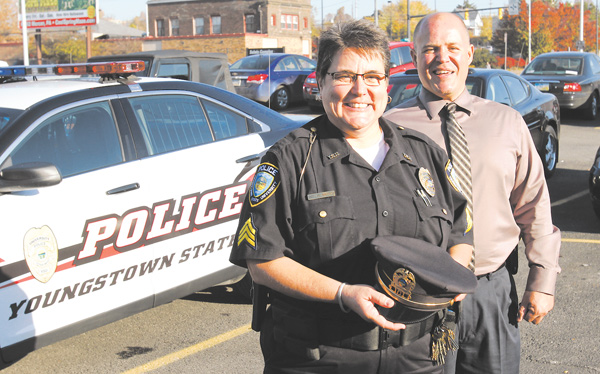 Photo
Lt. Rosemary Marsco of the Youngstown State University Police Department is the first woman in the department to rise to that rank. Chief John Beshara, right, promoted Marsco, who started with the department as a part-time dispatcher 27 years ago.
By Denise Dick
Youngstown
Rosemary Marsco is the first female lieutenant in the history of the Youngstown State University Police Department, but she says gender isn't really part of the job.
"When I first became a police officer, one of the lieutenants told me, 'There's no gender in this job,'" she said.
It's something she's taken to heart.
"We're first responders," Marsco said. "When I respond to a scene, whether it be an accident or whatever, the people don't care whether I'm a woman or a man. They care if I can make the right decisions and get help when it's needed."
Marsco was hired as a part-time dispatcher for the department 27 years ago. About a year later, she became an officer, replacing another female officer who left for another job. At that time, there were a few female police officers.
Today, the department's full-time ranks include four women of 26 officers.
Marsco was promoted to sergeant in 1996 and to lieutenant last July.
"I guess I'm paving a path for other females, and I'm proud of that," she said.
But the women in the department do their jobs and what's expected of them just like their male colleagues. She considers herself a police officer first, a female police officer second.
Chief John Beshara, who took office last February, appointed Marsco as one of three lieutenants.
The department's seven sergeants applied, but the university's human resources department determined that five were qualified.
After talking to Beshara and learning about the expectations for the job, two of those applicants withdrew from consideration.
"I expect a lot of these lieutenants," he said.
Marsco's duties are administrative, handling policies and procedures, training and keeping abreast of changes in the law. Another lieutenant handles operations and the third, investigations.
"I expect lieutenants to be hands-on," the chief said. "Rose is." She knows how to manage but doesn't overmanage, he said.
Marsco, a city native who lives in Niles, graduated from Ursuline High School and earned two bachelor's degrees at YSU, one in criminal justice law-enforcement administration and a second in psychology with a teaching certificate.
She decided she wanted to be a police officer when her brother, who was studying criminal justice, brought home his textbooks. He actually opted for a career as a respiratory therapist.
Marsco thought law enforcement fit her personality. "I feel like I'm a natural at it," she said.
She's not the same police officer today that she was when she started. She's learned a lot and credits mentors within the department with helping her job.
[Retired] Lt. Mark Adovasio taught me how to be a good police officer," Marsco said. "A lot of the job is discretion."
Every day is different.
"That's what I like about the job," she said.