Enjoy today in the Valley because tonight it's back to cold reality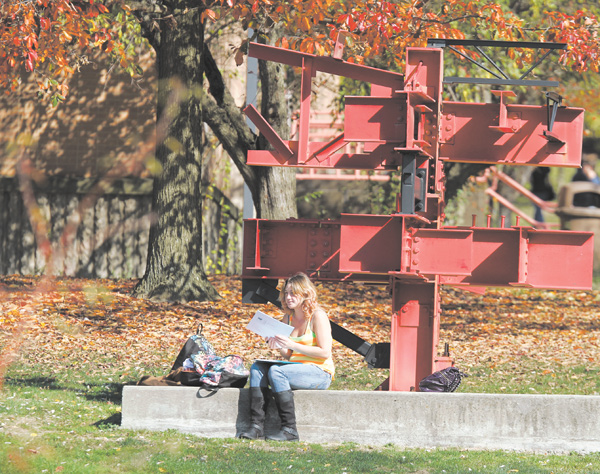 ---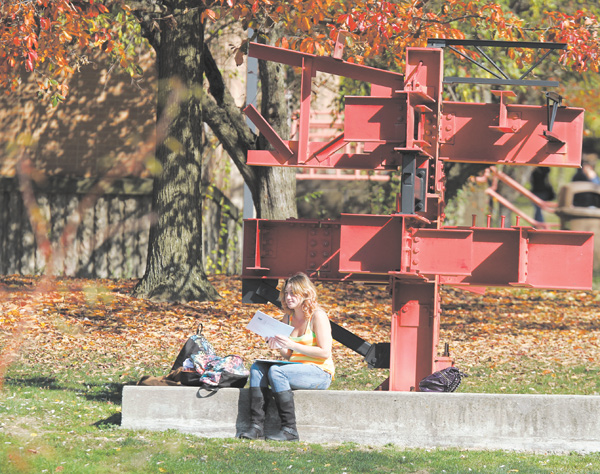 Photo
Amanda Huff man of Liberty, a sophomore at Youngstown State University, enjoys the unseasonably warm weather on campus. The area had a record-high temperature of 81 degrees Thursday, but the temperature will drop into the mid-40s by tonight and is expected to stay there through next Thursday.
YOUNGSTOWN
The Mahoning Valley will go from a record-high temperature to unseasonably cold weather and the likelihood of snow showers Sunday night.
Weather experts are keeping a close eye on the movement of Hurricane Sandy, as that will determine if the area gets snow — and how much.
As of late Thursday, it "doesn't look like there will be snow accumulations," said Brian Mitchell, a meteorologist with the National Weather Service in Cleveland.
Hurricane Sandy is "changing so rapidly, so we won't know until late Saturday or early Sunday" if the area will get measurable snowfall, said Jess Briganti, weather anchor for 21 WFMJ-TV.
Measurable snowfall is any amount of snow that's at least 0.1 of an inch, Mitchell said.
Snow or not, "the cool-down is coming," Briganti said.
And that cool-down will be a significant change from what we've experienced in the Valley the past few days, she said.
On Thursday, the area had a record-high temperature for an Oct. 25 of 81 degrees, which occurred at 3:25 p.m., according to the weather service. The previous record high for Oct. 25 was 79 degrees in 1963.
It's been unseasonably warm for October with the temperature reaching at least 70 degrees on eight days this month.
The temperature will be in the upper 60s today, and then drop into the mid-40s tonight, according to the forecast.
It won't get any warmer than that through next Thursday, with a chance of snow also Monday and Wednesday, the weather service says.
Even if it doesn't snow, precipitation is likely every day beginning tonight and going through Tuesday, Mitchell said.
The first major fall snowstorm in Valley weather history was 3.8 inches on Oct. 25, 1962, according to weather service statistics.
The earliest fall measurable snow accumulation, at least 0.1 of an inch, in the area was recorded on Oct. 2, 2003.
Also, Nov. 4 is the average day for the first measurable snowfall.
Hurricane Sandy, having blown through Haiti and Cuba on Thursday, continues to barrel north. A wintry storm is chugging across from the West. And frigid air is streaming south from Canada. All the spare parts appear to be coming together to create what forecasters are calling "Frankenstorm," a monster combination of high wind, heavy rain, extreme tides and maybe snow that could cause havoc along the East Coast just before Halloween next week.
And if they meet Tuesday morning around New York or New Jersey, as forecasters predict, they could create a big wet mess that settles over the nation's most heavily populated corridor and reaches as far inland as Ohio.
With experts expecting at least $1 billion in damage, the people who will have to clean it up aren't waiting.
Utilities are lining up out-of-state work crews and canceling employees' days off to deal with the power outages. From county disaster chiefs to the federal government, emergency officials are warning the public to be prepared. And President Barack Obama was briefed aboard Air Force One.
"It's looking like a very serious storm that could be historic," said Jeff Masters, meteorology director of the forecasting service Weather Underground. "Mother Nature is not saying 'trick-or-treat.' It's just going to give tricks."
National Oceanic and Atmospheric Administration forecaster Jim Cisco, who coined the nickname Frankenstorm, said: "We don't have many modern precedents for what the models are suggesting."
Government forecasters said there is a 90 percent chance — up from 60 percent two days earlier — that the East will get pounded starting Sunday and stretching past Halloween on Wednesday. Things are expected to get messier once Sandy, a very late hurricane in what has been a remarkably quiet season, comes ashore, probably in New Jersey.
Coastal areas from Florida to Maine will feel some effects, but the storm is expected to vent the worst of its fury on New Jersey and the New York City area, which could see around 5 inches of rain and gale-force winds close to 40 mph. Eastern Ohio, southwestern Pennsylvania, western Virginia and the Shenandoah Mountains could get snow.
And the storm will take its time leaving. The weather may not start clearing in the mid-Atlantic until the day after Halloween and Nov. 2 in the upper Northeast, Cisco said.
"It's almost a weeklong, five-day, six-day event," he said from a NOAA forecast center in College Park, Md. "It's going to be a widespread, serious storm."