Published: Fri, October 26, 2012 @ 12:07 a.m.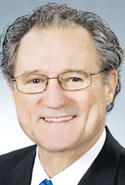 Photo
By Elise Franco
Canfield
Mahoning County residents were a mixed bag of opinions during the Mill Creek MetroParks' second public hearing on gas and oil drilling.
The MetroParks board of commissioners scheduled two public hearings in October to gather information and gauge county residents' response to the possibility of drilling on park land.
Thursday's meeting kicked off with anti-drilling information from State Rep. Bob Hagan of Youngstown, D-60th; Dr. Ted Voneida, a retired biologist who has researched the drilling industry; and Dr. Ray Beiersdorfer, Youngstown State University professor in the College of Science, Technology, Engineering and Math.
Rhonda Reda, executive director of the Ohio Oil and Gas Energy Program, spoke at the first session Oct. 16 about the drilling process, as well as the extraction process — commonly known as hydraulic fracturing.
Hagan, who has been vocal about the need for more concrete information about the drilling process and its risks, said Thursday that the park commissioners have the responsibility to look at the facts on both sides before making a decision.
"It seems to me that in this particular realm in the Mahoning Valley, it's become difficult to separate the direction we should go and what's been told to us by the oil and gas industry," he said. "My fear is, because we're so desperate [for jobs], we historically find ourselves in the position that we look the other way."
Hagan said the board needs research from neutral parties and should wait on a study from the U.S. Environmental Protection Agency before making any final decision.
"The industry uses millions of dollars to influence how we're thinking," he said. "Most of their research is an imbalance of the information we need to get."
Voneida spoke to a crowd of nearly 200 people about the dangers and health effects of drilling. He said one staggering statistic is that Ohio has nearly 100,000 active wells but only 38 inspectors.
"There's no way only 38 people can inspect all those wells," he said.
In terms of health concerns, Voneida said that because the chemicals used in the fracturing process are highly toxic, water and air contamination are a risk.
"I'm fully aware that we all use gas and oil," he said. "But these corporations are fighting tooth-and-nail against any regulations that would make drilling safer."
James Eidel of Beaver Township spoke in support of shale drilling, calling it the "second coming in the Mahoning Valley."
"It will ignite something we've not seen here since the collapse of the steel industry," he said. "We must have the vision to see past the day after tomorrow."
Bill Bieber of Canfield said he attended the meeting to gain an education on the topic but did not oppose drilling if done properly.
"All of us benefit from oil and gas," he said. "It seems like everyone wants the benefits. ... There has to be a common-sense way to go about this."
Voneida argued that the oil and gas companies, which are based out of the state and some out of the country, won't create nearly as many jobs as they tout.
He said because most companies already have full-time drilling crews and local residents most will likely be hired temporarily to drive trucks of brine water to and from drilling sites. "These are short-term gains from long-term destruction."