Miss Rutkousky, to be bride of Alex Amendolea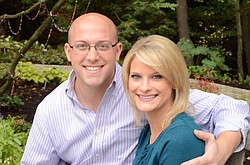 Photo
Alex M. Amendolea and Kristin N. Rutkousky
CANFIELD
Robert and Patti Rutkousky of Canfield are announcing the engagement of their daughter, Kristin Nicole Rutkousky, and Alex Michael Amendolea, both of Canfield. The parents of the future groom are Rick and Kay Amendolea of Canfield.
The couple will be married during an open church ceremony planned at 1:30 p.m. Nov. 10 in St. Michael Church, Canfield. Invitations will be extended for a reception at Mr. Anthony's at the Maronite Center, Youngstown.
The bride-elect earned a bachelor's degree in business administration, marketing, from Ohio State University. She is an account executive for Turning Technologies in Youngstown.
The prospective groom received a bachelor's degree in business administration, finance, at Kent State University and is pursuing a degree in mechanical engineering at Youngstown State University. He works for Centricity Corp. in Girard.