Obama to bring Clinton to Valley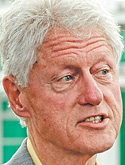 ---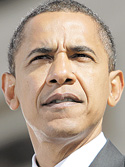 Photo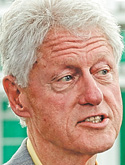 Photo
By DAVID SKOLNICK
skolnick@vindy.com
YOUNGSTOWN
President Barack Obama and former President Bill Clinton will campaign Monday in Youngstown.
Obama's campaign confirmed the event to The Vindicator saying it's one of three stops for the two that day, which also include visits to Orlando, Fla., and Prince William County, Va.
Ohio, Florida and Virginia are all key swing states in this presidential election.
Though the campaign didn't disclose the location of the event, a source with information about the visit said a rally is planned at the Covelli Centre downtown.
The visit comes eight days before the Nov. 6 general election.
Also, Chicago Mayor Rahm Emanuel, Obama's former chief of staff, is coming this weekend to the Valley in support of the president, according to the campaign. Again, the campaign said it couldn't confirm a specific location.
Emanuel is expected to campaign in downtown Youngstown on Sunday, says local and statewide Democratic sources.
Meanwhile, the campaign for Mitt Romney, the Republican presidential nominee, said it is "intently focused" on this region and has not ruled out the potential for "one or more candidate visits before Election Day."
Romney's only visit to the Valley was a March 5 event in Youngstown. That was the day before he won a close Republican primary in Ohio.
Paul Ryan, his vice-presidential running mate, conducted an Oct. 13 town-hall meeting at Youngstown State University and stopped Aug. 16 at the Hot Dog Shoppe in Warren.
Ohio is considered a key swing-state in the presidential election with Obama, Vice President Joe Biden, Romney and Ryan making numerous visits to the state.
Most polls show the race is a statistical dead-heat, within the margin of error.
Most of the visits by the candidates to Ohio have been in the Cleveland and Columbus areas, the state's population centers.
Obama visited Boardman and Poland on July 6 during his only campaign stop in the Mahoning Valley, a traditional Democratic stronghold.
Biden campaigned in the Valley on May 16 and Aug. 31.