Beemer gets 15 years to life for the rape of her daughter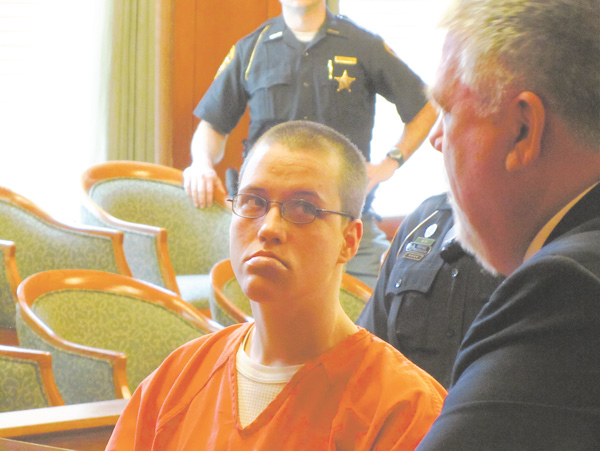 ---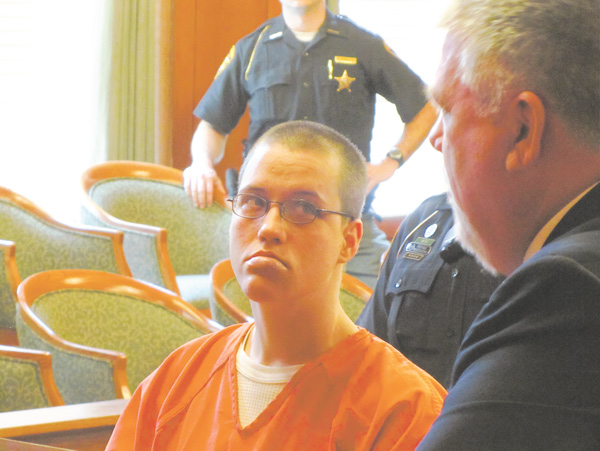 Photo
Felicia Beemer listens to her attorney, John Fowler, during her hearing on Wednesday in Trumbull County Common Pleas Court.
By Ed Runyan
WARREN
Felicia Beemer, captured on a cellphone video raping her 8-month old daughter while visiting her at the Trumbull County Children Services offices, pleaded guilty Wednesday to two rapes and other charges.
She was sentenced to 15 years to life in prison. Her husband, Cody Beemer, 24, also captured on the video raping the girl, was sentenced earlier to 25 years to life.
The rapes touched off an investigation of Trumbull Children Services on Reeves Road that resulted in procedural changes at the agency, disciplinary action and increased use of security cameras in visitation rooms.
Felicia Beemer, 22, made no statement before Judge W. Wyatt McKay of Trumbull County Common Pleas Court sentenced her. She also didn't comment as she was led back to the jail after the hearing.
She did show signs of the attention-deficit problem Judge McKay mentioned in his ruling last week when he said she was competent to stand trial for the rapes but would require frequent breaks in the proceedings because of her short attention span.
She frequently fidgeted in her chair during the 90 minutes she waited for the sentencing to begin.
Judge McKay said Beemer has depression and limited intellectual ability but was not mentally ill, understood the plea-bargaining process, and could aid in her defense.
Beemer's attorney, John Fowler, said after Wednesday's hearing that prosecutors lowered their plea deal from a minimum of 25 years in prison to 15 years because the competency hearing showed she was less to blame for the rapes than her husband.
"I think the state understood she had her first child as a result of a rape ... and she had been raped at least six times," Fowler said.
All four of her children were taken away by Children Services because she was incapable of caring for them and her intellectual level was "like an 8-year-old," Fowler said.
Diane Barber, the assistant Trumbull County prosecutor who handled the case, disagreed. "His client did not have the same criminal history that Cody Beemer had," Barber said of Felicia Beemer. "Cody was a registered sex offender."
Both Beemers are facing a life prison sentence, Barber said, adding: "There's no guarantee that either of them will ever get out. We [the prosecutor's office] would oppose either of them getting out."
"They are the worst form of the offense," she said. "They preyed on children — one of them under 1 year old. The other under 2 years. Kids that age don't have the verbal skills to discuss it. And not only that, the victims were relatives of the defendants — blood relatives of Felicia's."
Police have said the Beemers used their own cell phone to videotape themselves raping their 8-month-old daughter at Children Services in April 2011 and used it again while Felicia Beemer raped her 18-month-old nephew in July 2011 while babysitting him.
She was convicted of the rapes as well as two counts of using a minor in sexually oriented matter for retaining the videos and two counts of pandering obscenity for downloading 532 pictures from the Internet depicting minors in obscenity and bestiality.
Documents indicated that Cody Beemer committed a sex crime as a juvenile and that Children Services was aware of the offense.
The director of Children Services at the time of the rapes, Nick Kerosky, said employees periodically looked in on the Beemers and the child over the course of the two-hour visit with their biological daughter, but the visit was not supervised the entire time by a person and was not videotaped.
The girl was taken from the Beemers at the hospital within days of her birth and taken into CSB custody. Her custody was eventually transferred to the children services agency in Geauga County.
More like this from vindy.com