Zoldan, Kennedy Jr. reunite at fundraiser
Ted Kennedy Jr.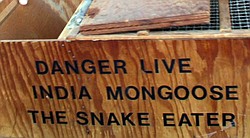 Video
Ted Kennedy Jr. and a unique gift.
CANFIELD
As guests milled about a local businessman's house Monday night waiting for a political fundraiser to begin, the host and featured speaker had a laugh-filled reunion with a mongoose.
Yes, a mongoose.
Edward "Ted" Kennedy Jr., son of the late Massachusetts senator, was at the home of Bruce Zoldan, chief executive of BJ Alan/Phantom Fireworks, to stump for U.S. Sen. Sherrod Brown, who is running for re-election.
The story of friendship between Zoldan and Kennedy began in 1973, when Kennedy was 12 and diagnosed with bone cancer. His right leg was amputated that year.
"I got letters and cards from all over the country, but the one thing I remember was the gift Bruce sent me," Kennedy said.
In 1973, Zoldan was a college student and already a longtime Kennedy supporter, from holding a sign as an 11-year-old during then- presidential candidate John F. Kennedy's visit to Youngstown to working on the campaign of Sen. Robert F. Kennedy until his assassination.
"I saw the torch had been passed to Sen. Ted Kennedy and I was following his career when I heard about the medical challenges facing his son, and I wanted to do something," Zoldan said.
He decided to send Kennedy a practical joke he had created: a cargo crate alleged to have a mongoose inside. When people got closer to peek inside the cage, the jokester would push a few springs to launch the mongoose — actually a furry piece of fabric — and startle them.
Zoldan made a few hundred mongoose devices and sold them to magic shops.
The gift, which included instructions, was confiscated by Capitol police, who discerned what it was and gave it to Sen. Kennedy, who promptly delivered it to his son.
The mongoose was a hit.
On Monday, Zoldan revived the joke and Kennedy said it brought him "much joy and happiness." Kennedy recalled using it to surprise family members, politicians and dignitaries — even Secretary of State Henry Kissinger.
Kennedy said it was his father who suggested "pulling the mongoose" on the then-secretary of state during a visit to the Kennedy home.
Kennedy said he saw Kissinger several years ago at the Waldorf Astoria hotel and stopped to re-introduce himself.
"[Kissinger] said, 'I remember the mongoose.' It made an indelible impression," Kennedy said.