Woman unable to return to work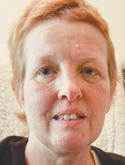 ---

Photo
By Ed Runyan
WARREN
Nancy Guerini, the Trumbull County Engineer's office employee who sought donation of sick-leave time to help her battle breast cancer, was not well enough to return to work Monday as scheduled.
Guerini, 51, said her doctor has asked that she be off work until Jan. 7, 2013. A letter to that effect was sent to her boss, Engineer Randy Smith, on Monday, she said.
Guerini said she was not able to return to work because of her low white blood-cell count and blood-platelet count. She continues to receive chemotherapy, Guerini said.
Her doctor advised her that she must not go places where she will come in contact with the public, such as the engineer's office, because of the potential to catch a cold or other illness.
On Aug. 31, Guerini said her doctor had requested sick time through Oct. 22.
Guerini has been off work on unpaid leave since July, when the last of her vacation time, sick time and federally guaranteed Family Medical Leave Act time ran out.
On Sept. 1, she started paying about $400 per month to keep her medical insurance. Guerini said Monday she isn't sure she will be able to continue to afford the insurance payment, which is due in about a week.
She has received some donations, and fundraisers for her are being planned for November and December, she said.
When asked whether she thinks she'll be able to return to work in January, Guerini said she hopes so, but added, "You have to remember, I'm Stage 4, and that's the worst stage of breast cancer."
Smith said Monday that Guerini remains in the same status as before — unpaid leave with no donated sick time from co-workers.
Guerini went public with her plight in August, saying Smith appeared unwilling to allow her to receive donated sick-leave time from coworkers, even though many other county employees are allowed to give and receive donated sick-leave time from co-workers.
County commissioners approved a countywide sick-leave policy Sept. 6, but Smith asked to opt out of the policy.
The commissioners' legal representative, the county prosecutor's office, has asked the Ohio Attorney General's office for a legal opinion on whether a countywide sick-leave policy would apply to the county engineer's office.
Until an opinion is rendered, Smith said, he's going to hold off on changing Guerini's job status or granting donated sick time to her.