Obama expected to stump in Valley Monday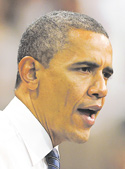 ---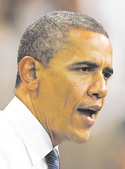 Photo
YOUNGSTOWN
President Barack Obama is expected to return to the Mahoning Valley, likely next Monday, for a campaign event, according to a source with information about the planned visit.
The campaign's advance team is considering several locations — both outdoor facilities and indoor locations that can accommodate a larger crowd — for the rally in the area, the source told The Vindicator on Monday.
The source is not affiliated with the campaign but has information about this and other Democratic political visits, including the stops Obama made during a two-day bus tour in Ohio with July 6 visits to Boardman and Poland, and Vice President Joe Biden's May 16 and Aug. 31 campaign events in the Valley.
The Obama campaign and Mahoning County Democratic Party Chairman David Betras said Monday they couldn't confirm a visit to the area by the president.
The expected Monday visit would be eight days before the Nov. 6 general election.
Though Obama has made numerous campaign stops in Ohio during his re-election campaign this year, primarily in the Cleveland and Columbus areas, this will be only his second visit to the Valley.
In 2008, Obama came to the area five times, including three after Ohio's March 4 Democratic primary.
Obama also made two noncampaign visits as president to the area in September 2009 and May 2010.
Mahoning and Trumbull counties are Democratic strongholds.
Polls are showing Ohio to be a very competitive and important state in the presidential race between Obama, the incumbent Democrat, and Republican Mitt Romney.
Romney's lone visit to the Youngstown area was March 5, the day before he narrowly won the Republican primary in Ohio.
Paul Ryan, his vice- presidential running mate, conducted an Oct. 13 town-hall meeting at Youngstown State University, and stopped at the Hot Dog Shoppe in Warren on Aug. 16.