Elizabeth Keffler, Stephen Cannon plan Nov. wedding
---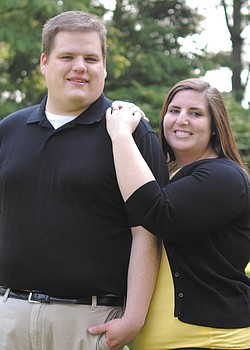 Photo
Stephen A. Cannon and Elizabeth N. Keffler
CANFIELD
David J. and Bonnie Keffler of Canfield are announcing the engagement and upcoming wedding of their daughter, Elizabeth Nicole Keffler of Boardman, and Stephen Allan Cannon, also of Boardman.
The parents of the prospective groom are Randall and Amy Cannon of New Middletown.
St. Patrick Church, Youngstown, will be the setting at 2 p.m. Nov. 3 for the wedding ceremony. An evening reception will take place at The Lake Club, Poland. Invitations will be extended for both.
The bride-elect earned a bachelor's degree in finance from Youngstown State University. She is a banking specialist for Huntington National Bank, Salem.
The future groom earned a bachelor's degree in business at YSU and is an assistant manager for Family Video, Struthers.