Kollats celebrate 60th anniversary with dinner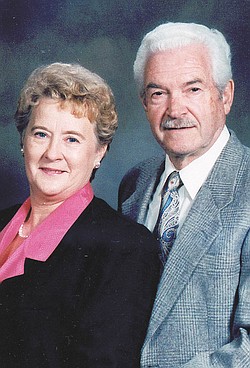 Photo
CANFIELD
Mr. and Mrs. Paul Kollat of Canfield celebrated their 60th wedding anniversary during a dinner Sept. 30 hosted by their children at Dino's Banquet Hall in North Jackson.
The former Eleanor Teno and Mr. Kollat were married Oct. 4, 1952, at Our Lady of Hungary Church in Youngstown.
The couple's children are Mark (Mary Jo) of Canfield, Brian (Christine Kutinsky) of Kent, Paul Jr. (Janeen) of Aurora and Lynore of Gainesville, Fla. Eight grandchildren and four great-grandchildren complete the family.
Mrs. Kollat retired in 1982 as an administrative assistant for Strouss in Austintown.
Mr. Kollat retired from General Fireproofing in Youngstown in 1985 as senior estimator. He also was an air traffic controller with the U.S. Air Force.