Greens honored with dinner and party for 50th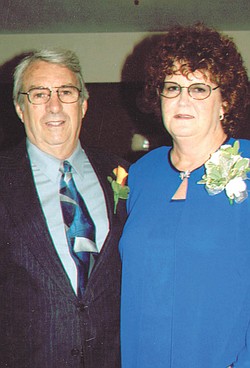 Photo
Mr. and Mrs. Richard Green
AUSTINTOWN
Mr. and Mrs. Richard Green of Austintown celebrated their golden wedding anniversary with a family dinner Aug. 18 at Cafe 422 in Warren.
A surprise party took place Aug. 19 at Eagles Hall in Austintown hosted by their children, Rick (Mariann) Green of Poland; Tim (Michele) Green and Chris (Jennie) Green, all of Austintown; and Mike (Patt Kaplan) Green of Pembroke Pines, Fla.
The couple's grandchildren are Cheryl Green (Steve Woodzell), Michael (Meagan Domkowski) Crnarich, Erica (Rick) Roden, Christopher (Marcia) Green, and Lindsey, Adam, Kaitlin, Joshua and Charlotte Green; and a great-granddaughter, Autumn Woodzell. A grandson, Jon Green, is deceased.
Mrs. Green, the former Linda Wurdack, and Mr. Green were married Aug. 18, 1962, at St. Brendan Church, Youngstown.
Mrs. Green, a homemaker, worked for Sears Catalog. She also was a secretary and marketing representative and worked in retail. She is a member of St. Joseph Church.
Mr. Green has been a truck driver for more than 35 years and is currently driving for Extendit Inc., Youngstown. He previously worked at Youngstown Country Club, operated an Amoco station in Hubbard and was a press operator at Rockwell International for more than 10 years. He is a U.S. Army veteran and served with the 82nd Airborne Division from 1957 to 1961, including one year in France.
The couple enjoyed supporting their sons in Scouts, baseball, football and wrestling programs and now follow their grandchildren's activities. They also enjoy boating and traveling to Florida for the winter.