---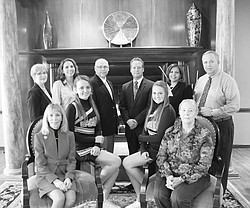 Photo
Robert K. Yosay | The Vindicator Among those participating in the National Philanthropy Day Award luncheon are: seated, Suzyn Schwebel Epstein, left, Andra Andrant, Taylor Gamble and Roberta Hannay; and standing, Carol Chamberlain, left, Stacey Zines, Matt Yerkey, Ted Schmidt, Susan Moorer and Frank Zamerelli.
YOUNGSTOWN
The Mahoning-Shenango Chapter Association of Fundraising Professionals has announced recipients of the National Philanthropy Day Awards.
Individuals, businesses and organizations from the region will be honored during a luncheon program Nov. 15 at Antone's Banquet Centre, 8578 Market St., Boardman.
Registration begins at 11 a.m. with the luncheon at noon followed by awards.
Stan Boney, news anchor at WYTV, will serve as master of ceremonies.
This observance provides an occasion for Americans to focus on philanthropy as an important part of society and to express thanks and appreciation to those who do so much to enrich communities in the Mahoning and Shenango valleys.
The recipients for the 2012 National Philanthropy Day Awards, now in its 22nd year include: Roberta Marsteller Hannay, outstanding philanthropist; PNC Financial Services, outstanding corporate philanthropist; Junior Civic League, outstanding civic organization; Salem Computer Center, outstanding small business; Suzyn Schwebel Epstein, outstanding volunteer fundraiser; United Local Cheerleading Squad, outstanding youth philanthropist; Helen R. Stambaugh, legacy award; and Salem High School Alumni Association, special recognition for valley impact.
Tickets are $30 per person and $240 per table of eight. Deadline for reservations is Nov. 5. Checks should be made to AFP Mahoning/Shenango Chapter and mailed to Association of Fundraising Professionals, P.O. Box 672, Youngstown, Ohio 44501-0672.
For information, call co-chairwomen Shanna Blinn at 330-941-2714 or Helen Paes at 330-533-3300.