For 97-year-old Angelo Cretella, ... Hard work defines his long, healthy life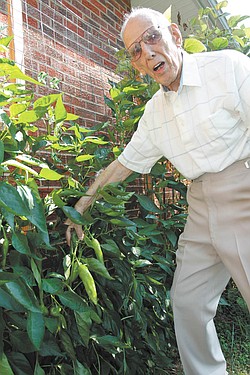 The Vindicator ( Youngstown)

Photo
ROBERT K. YOSAY | THE VINDICATOR.Angelo Cretella, 97, stays busy with activities such as growing and picking peppers, making pizzelles and attending meetings of St. Rose Old Timers..
By Sean Barron
LIBERTY
For much of the year, a sumptuous, well-organized garden consisting of sweet peppers, beans, zucchini, basil and tomatoes grows against the back of Angelo Cretella's residence.
Of course, a lot of care and hard work goes into such an undertaking, so in that sense, the garden is the product of what largely defines the 97-year-old man.
"It was all work when we were kids," Cretella said as he recently examined a plump tomato in the backyard of his Murray Hill Drive home.
"If you were able to hold a shovel, you shoveled it."
Age has done little to slow down Cretella, who vividly recalled having raised goats and chickens as a 7-year-old on his uncle's farm on Youngstown's West Side, where he and his brothers worked after school and were paid with food.
He also spoke about having lived as a child in Girard with no electricity. The family relied mainly on gas lanterns, one of which Cretella still has in case of an emergency.
At age 2, Cretella lost his father, so an older brother supported the family, said Cretella, who clearly remembered that many people lighted real candles on their Christmas trees before they realized how unsafe such a practice was.
Nevertheless, "It wasn't easy living, but we were happy," he said.
Beginning around age 14, Cretella was a Vindicator carrier, something he did for nearly 10 years. The daily paper cost 3 cents, and carriers who brought in new customers were rewarded with free train rides to local amusement parks, he continued.
In April 1936, Cretella was hired at U.S. Steel Corp.'s McDonald Works for $4.60 a day, then he took jobs there as they became available and soon began moving up the ranks before retiring in 1979.
At one point, the steel giant went on strike, but don't take that to mean he sat idly.
"I picked apples for 10 cents a bushel in a Liberty orchard when I was on strike from U.S. Steel," he added.
Before starting at U.S. Steel, Cretella worked one year for the local railroad, which entailed his making $3.20 per day to use a pick and shovel to clean ice off the switches along the tracks.
He also had to walk from Girard to Youngstown and often stopped en route at a repair shop to warm up on cold winter days, Cretella recalled.
After retiring, Cretella remained active, including working briefly at a bank and volunteering as part of a grounds crew at area festivals. He also served meals and coffee at the St. Vincent DePaul soup kitchen in Youngstown.
Today, you're likely to find Cretella in his own kitchen, where he engages in one of his favorite pastimes: making pizzelles (thin, traditional Italian waffle-shaped cookies) for family and friends as well as special occasions such as weddings.
"He has it down to a science. He puts a clock out and watches the clock," said Cretella's daughter Marilyn Sich of Cornersburg, who retired after having taught 36 years at the St. Stephen School in Niles.
Sich had nothing but praise for her father, which included admiration for his character.
"I admire him for the compassion he has for all people. I [also] admire his work ethic, and I hope I can live as healthy a life as he has," she said.
So, what is the secret for a life of quality longevity? Maintain a healthy marriage and never take your spouse for granted, advised Cretella, who passionately recalled 56 years of marriage to his late wife, Angeline I. Cretella, as well as trips they took to Italy, Mexico, Hawaii and elsewhere.
Cretella's other daughter, Susann Timko, is an assistant manager for PNC Bank in Youngstown. His son, Michael, is deputy chief of the Youngstown State University Police Department.
Cretella also has three grandsons.