Bonnie Beachy's cancer doesn't make her a victim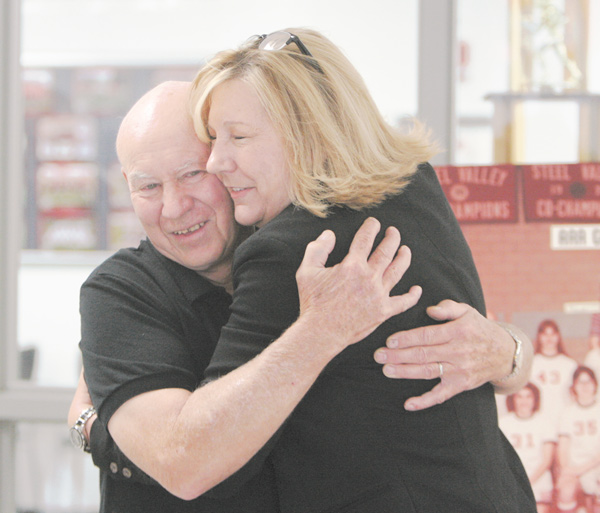 ---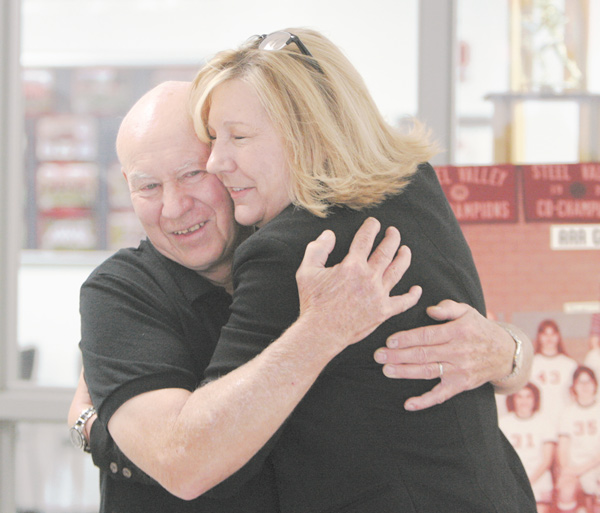 Photo
Struthers High basketball standout Bonnie Beachy receives a hug from her former coach, Dick Prest, during a visit to her alma mater Thursday. Beachy, who now lives in Texas, is battling cervical cancer for the second time with the intensity and fight that led her to a state championship (1978) and to being the Wildcats' all-time scoring leader (1,448 points).
'I'M A VICTOR'
Bonnie Beachy's cancer doesn't make her a victim
By Greg Gulas
STRUTHERS
The older you get, the more meaningful the little things in life tend to become.
For Bonnie Beachy, both Struthers High's and Kent State University's all-time scoring leader, visiting her respective alma maters this weekend and spending time reconnecting with old teammates, friends and teachers has taken on added importance.
Diagnosed with late stage cervical cancer six years ago and in remission until six months ago, she is battling the disease for a second time with an intensity and fight that translated into 1,448 career points in high school and another 2,071 collegiately.
"When I was first diagnosed six years ago, I became a very private person and just didn't want anyone to know what I was going through," Beachy said. "Back then, the survival rate was five years and I beat the odds. My doctors were even surprised.
"I am currently going through chemotherapy and while the cancer is not in remission yet, doctors expect that to happen by December."
Beachy's cancer is rare — it is diagnosed in approximately 20,000 people in the United States each year.
"My cancer was due to a gene defect that I never knew I had. I have five brothers and sisters and it can be passed down, so early detection is the key," Beachy added.
"This particular gene defect causes ovarian cancer in about 45 percent of the people and breast cancer in nearly 70 percent. When I was first diagnosed and saw those numbers, I had a double mastectomy as well," she said.
Beachy, who lives in Cypress, Texas, where she is an assistant principal, remains optimistic and said there was an upside to the diagnosis.
"I had my treatments at the M.D. Anderson Hospital and they are the No. 1 ranked cancer treatment center in the nation," she said. "Because of my age they gave me radical chemotherapy; something they wouldn't ordinarily do on an older patient and it worked."
Beachy, who addressed coach John Grandy's Wildcats team on Thursday, will speak to the Golden Flashes women's squad and first-year head coach Daniele O'Banion Saturday at 11:30 a.m.
"Our players have heard stories about Bonnie and I've always said you can't go forward until you know, respect and remember your past. With that comes responsibility and an accountability," Grandy noted.
"We brought the 1978 state championship team back in 2008, but Bonnie couldn't make it so for her to take time out of her busy schedule to be with us today is really very special. It just speaks volumes of what she is all about," he added.
Beachy, a three-time Steel Valley Conference first-team selection, was the AP player of the year and state championship MVP in 1978.
Despite her success, not many colleges pursued her.
"There weren't many offers at all so when Kent State called, she visited and then made them her selection. It was close to home so her parents could see her play and that was a big consideration for her," Dick Prest, her high school coach, said. "She is the all-time scoring leader in basketball at Struthers and missed 20 games, so imagine how many more points she could have scored. During her freshman and sophomore seasons, the team only played 12 games.
"What Kent State got in Bonnie Beachy was someone whose desire to win was like no other. She was the consummate team player who once you told something to in practice, went home and practiced it more."
For Beachy, the invitation to address her college team was a blessing that came at the right time.
"After chemotherapy sessions, you think a lot about many, many things. When coach [Daniele] O'Banion called to see if I would be interested in talking to the team, she caught me at the right time and I said let's do it," Beachy said.
"When you become aware of your own mortality you look at things differently. My memories growing up in Struthers and going to school at S.H.S. are priceless. I want to reconnect with my past and this weekend will go a long way in making that happen for me," she added.
"Don't pity me as I am not a victim. I'm a victor," she stated.
With October serving as Breast Cancer Awareness Month, who better to be a role model for someone fighting any type of cancer than someone currently fighting the dreaded disease, and with a positive outlook to boot.
That's just the fighter that Beachy is and it all started during her competitive days at Struthers High School.