Math, music mix motivate teens at YSU festival
---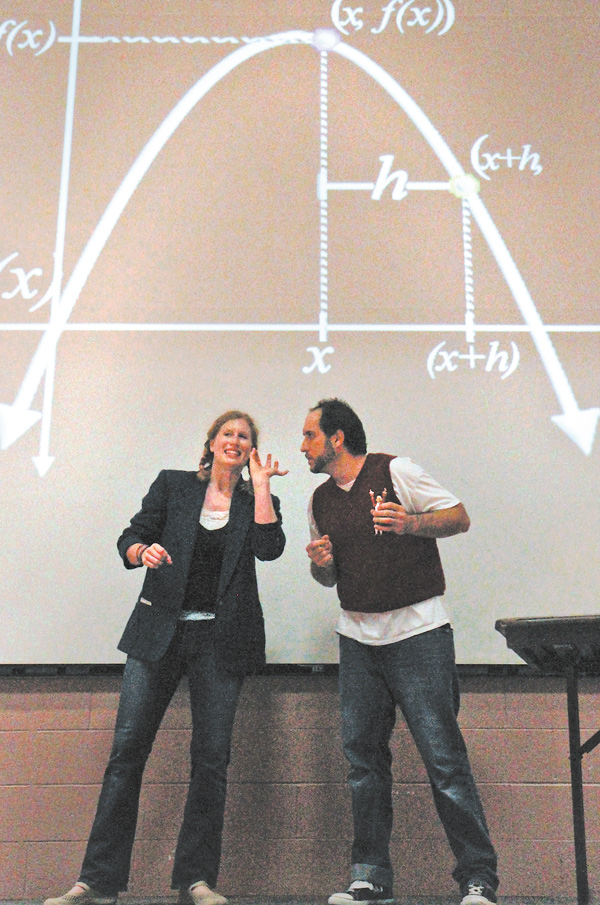 Photo
Breona Conrad and Joshua Murphy performed "Calculus: The Musical" on Thursday at Youngstown State University for more than 350 area high school students. The two take their show on the road and present a comical, entertaining way for kids to learn about math.
By Elise Franco
Youngstown
Traveling performers showed high school students that math can be fun when paired with humor and catchy tunes.
Each year, the Youngstown State University STEM College and Department of Mathematics and Statistics host MathFest, a day of mathematical workshops and contests for high school students.
This year, 362 students from 36 schools in Northeast Ohio and western Pennsylvania attended, said Angela Spalsbury, associate professor of mathematics and science.
Spalsbury said the coordinators invited "Calculus: The Musical" to perform to mark the fest's 10th year.
"This is entertainment," she said. "It's at the end of a day of doing all kinds of mathematical competitions and workshops, and it's a way to show them math is fun."
"Calculus: The Musical," performed by Joshua Murphy and Breona Conrad, used humor, skits and songs about math, set to tunes from well-know musical artists.
Murphy said it's rewarding when a room full of high school students laughs and cheers along with the performance.
"Any educational show is rewarding in terms of being able to help students," he said. "One powerful aspect of our show is that if you can't remember a formula, you can remember the formula within one of our songs."
Patrick Zhang, 16, of Revere High School in Richfield, Ohio, said the musical was the best part of MathFest.
"I'm in calculus right now, and it was fun to watch," Zhang said. "They made it pretty entertaining."
Nathan Ritchey, chairman of the YSU mathematics and statistics department, said it's important to keep young students engaged in math, and the musical is one way to do that.
"Having students cheer about calculus, that's pretty rare," he said. "Usually with math and students it's a competition, but we wanted them to see how it connects to arts and science so they gain some excitement."