---

Photo
Neighbors | Abby Slanker.Steve Cronin, a 31-year employee of Baird Brothers, stood by the rip saw he operates in the plant for tours during the Red, White and True Fall Festival on Oct. 13. Cronin explained the rip saw uses lasers to measure the cuts in the wood and that 90 percent of the plant's lumber goes through the saw.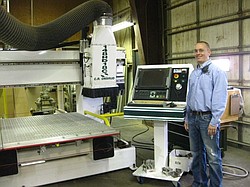 Photo
Neighbors | Abby Slanker.Jon Hicks, Baird Brothers engineer, was available to answer questions about the CNC router he operates during plant tours at the Red, White and True Fall Festival on Oct. 13. Hicks explained the router cuts the wood which is not meant to be strait, such as arches and circles.
By ABBY SLANKER
Baird Brothers Fine Hardwoods celebrated fall and American craftsmanship at its Red, White and True Fall Festival on Oct. 13. The day-long event featured demonstrations of do-it-yourself projects, including how to install doors and hardwood flooring, product demonstrations, product exhibits and plant tours. The event also offered prizes, including an oak or hickory flooring giveaway, food and family fun.
"Red, White and True is an opportunity for families to have fun and learn more about how to make their homes beautiful with the sustainable hardwood products that we proudly manufacture here at our Canfield plant," said Michael Knoedler, of Baird Brothers.
"The festival really is a celebration of true American craftsmanship. Baird Brothers is a family-owned and operated business that is proud to provide jobs for Americans in a time when the outsourcing exodus we have seen over the last 20 years is turning around because consumers are again demanding quality American-made products."
The plant tours were given by Baird Brothers employees throughout the day and highlighted new technology.
"This is a chance for the community and our neighbors to come out to see what Baird Brothers is all about. This is our first festival and we plan on making it an annual event," said Matt Baird, plant manager.
During the event, attendees also had a chance to meet Baird Brothers skilled craftsmen and draw on their experience to answer questions and could enjoy a 10 percent discount on cash and carry items.
Apples, cider and doughnuts were also available from nearby White House Fruit Farm.