State ratings show ups, downs of Valley schools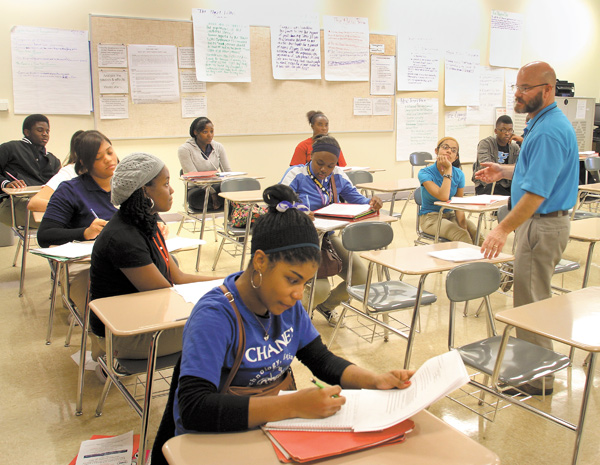 ---
Liberty board president seeks help cutting $1.3M deficit
By DENISE DICK and Ashley Luthern
news@vindy.com
Fifteen Mahoning Valley school districts saw their state report-card ratings improve while eight saw their designations decline.
The remaining 21 districts in Colum-biana, Mahoning and Trumbull counties remained the same, according to data released Wednesday by the Ohio Department of Education.
Austintown and Weathersfield jumped two designations each from effective to excellent with distinction, the highest rating.
"This is a true credit to our students, community and staff, and mostly our teachers," said Austintown Superintendent Vince Colaluca. "They do the work every day to have our students college- and career-ready."
He added that the district is the only school in Ohio ranked excellent with distinction that has a student population of 5,000 or more where 50 percent of those students qualify for free and reduced lunches.
"As a large school district with the socioeconomic status we have, it is very difficult to receive excellent with distinction," Colaluca said.
Report cards, typically released in late August, have been on hold because of an ongoing audit of attendance and enrollment records statewide by state Auditor Dave Yost. Wednesday's release is the second installment of preliminary data in about three weeks, subject to change depending on Yost's audit.
Weathersfield Superintendent Damon Dohar said his district worked to improve math and reading, particularly in the middle school.
"With special ed, we've also worked for inclusion throughout the district," he said. "That's been a big help in meeting AYP."
Adequate yearly progress is the progress measured in 10 subgroups including all students, economically disadvantaged students, minorities and special education children.
Poland, West Branch, Bloomfield-Mesopotamia, Lakeview and Joseph Badger earned the excellent with distinction rating as well. Joseph Badger earned that same designation in 2010-2011. The others bumped up this year from excellent.
"We're extremely proud of our staff and our focus on achieving academic excellence. This is certainly a team effort with our teachers and students, and of course parental support at home. This is not only a school but a community achievement," said Poland's interim Superintendent Don Dailey.
The district met all of 26 performance indicators, adequate yearly growth and its valued-added measures.
Scott Weingart, West Branch superintendent, said the district's meeting the value-added measure, the requirement that each student meet a year's worth of growth, is an element that helped move West Branch to excellent with distinction.
"I think that's a powerful indicator," he said. "It's a real estament to our teachers and their ability to differentiate instruction to students."
The district also has focused on early education. The Mahoning County Educational Service Center has expanded to six the number of preschools in the area, he said. That allows the district to reach out to students, particularly those with disabilities, earlier and help them prepare for school.
The district's use of Title 1 tutors, who focus on economically disadvantaged students, also helped the district improve. All regular education teachers of first and second grade work with a Title 1 tutor.
"In the primary grade, reading is just everything," Weingart said. "It's the key to unlocking everything that you do."
Other districts that saw improvement are Campbell, Girard, Liberty, LaBrae, Leetonia and Southern Local. All improved from effective to excellent. Warren moved from academic watch to continuous improvement and Wellsville leapt two steps from continuous improvement to excellent.
Campbell Superintendent Tom Robey said these report cards are the first since the district realigned its buildings. Eighth grade, formerly housed at the middle school, moved to Campbell Memorial High School to alleviate crowding and to save money without losing teachers.
"The middle school did exceptionally well," the superintendent said. It moved from effective to excellent, helping the district meet the value-added measure and earn the excellent designation.
Girard focused on middle school, an area that has caused difficulty in the past, said Superintendent David Cappuzzello. He credited teacher training with helping to move the school from effective last year to excellent with distinction this year.
Liberty targeted reading improvement in the primary grades to improve scores, said Superintendent Stan Watson. The district also has been working to bolster school readiness as some children come to school needing additional help. That's driven the improvement, but Watson said the district continues to focus on reading.
Jackson-Milton, Newton Falls, South Range, Bristol, Beaver, Crestview, Salem and East Palestine all saw their designations fall.
Both Jackson-Milton and Newton Falls moved from excellent with distinction to excellent while South Range, Bristol, Beaver, Crestview and Salem dropped from excellent to effective.
South Range's designation decreased even though the district achieved all 26 performance indicators and met its adequate yearly growth requirements.
That's because the district didn't meet the value-added requirement, which measures whether each student meets a year of growth.
If a district is does not meet value-added requirements for two consecutive years, it can cause a lower a ranking, said South Range Superintendent Dennis Dunham. It appears the value-added measurement stems from middle-school performance, he said.
The value-added measurement takes students' test scores into consideration on a year to year basis. Students who pass the test can be deemed proficient, accelerated or advanced. "It doesn't mean they didn't pass the test. It means that they're not demonstrating year growth by definition of ODE," Dunham said. "... If students are advanced and fall back to accelerated, that demonstrates that they did not have a year of growth. That's where the struggle lies."
Kirk Baker, Jackson-Milton superintendent, said the district isn't disappointed with its rating. "We're still excited to be excellent," he said. "We're still working hard and excellent is a great accomplishment."
It's difficult to achieve an excellent with distinction designation for two consecutive years, he said.
East Palestine fell from effective to continuous improvement.
Youngstown remains at academic watch for the second year, making it the lowest-rated district in the Valley, but there are glimmers of improvement.
Chaney, which changed from a traditional high school to a visual and performing arts and science, technology, engineering and mathematics school for sixth- through 12th-graders, earned an effective rating.
Principal Diane Rollins credited the staff. They are committed to the students and the academic success of the school, she said.
Rollins, who took over the principal's post last February when the previous principal resigned, said school personnel work together to send a message to students. "The message is that we believe in you. We believe you can be successful," she said.