Hagan asks for audit of Mahoning courts
Tweet
Published: Thu, October 18, 2012 @ 12:08 a.m.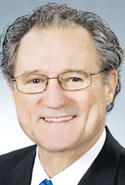 Photo
YOUNGSTOWN
State Rep. Robert F. Hagan is asking the state auditor's office to audit the lower courts in Mahoning County and project cost savings to be achieved by consolidation of those courts.
Hagan, of Youngstown, D-60th, however, is not specific as to what proposed new number of judges and court locations he wants the auditor to use in making comparisons to the present system.
The current system is "outmoded and overly expensive," Hagan wrote in a letter to Ohio Auditor Dave Yost.
Ohio Chief Justice Maureen O'Connor and the National Center for State Courts have said the county's lower courts should be reconfigured to use tax dollars more efficiently, Hagan told the auditor.
The lower courts consist of municipal courts in Youngstown, Campbell and Struthers and county courts in Austintown, Boardman, Canfield and Sebring.
Youngstown has three full-time municipal judge seats, one of which is vacant, and all the other court locations each have just one part-time judge.
Youngstown's declining population and its municipal court's declining caseload make it "difficult to justify continuation of the current system when a reconfigured one could serve the community just as well," Hagan wrote.
"This is not something we would do for this purpose," Carrie Bartunek, the state auditor's press secretary, said of Hagan's proposal.
Under the Ohio Constitution, the state Supreme Court is responsible for the structure and operation of the state's court system, she added.
The court's chief justice could ask the auditor's office to do a performance audit of the county's lower courts to analyze the potential for cost savings and efficiencies in the current system, but such an audit would not be done for the specific purpose of consolidation or restruc-turing, Bartunek said.
The NCSC study, which was performed for the Mahoning County Bar Association, did not provide specific estimates of cost savings consolidation might achieve. The association is setting up a committee to study the NCSC recommendations.
"Knowing how much taxpayer money could be saved through a reconfiguration of the court system would be a tremendous aid and help move the process forward," Hagan said.
The county bar association favors an audit, but believes it would be more helpful after an overall consolidation plan is established, said Atty. Shirley J. Christian, bar association president. "That would permit a cost comparison between the plan and existing structures," she noted.
Atty. David Betras, chairman of the Mahoning County Democratic Party, said he welcomes "any studies to help the taxpayers of Mahoning County deliver governmental services at lower costs."
The county's lower court system was designed in the 1950s and 1960s, when Youngstown's population was more than double its current level and the suburban populations hadn't yet grown to their current levels, Betras noted.
"The new normal for all governments in the coming years is doing more with less," Betras said. "If current governmental systems can't deliver this new normal, then we have to change them," he added.