Angela Sacramento | Michael Kovachik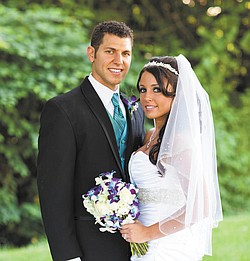 Photo
Michael Kovachik and Angela Sacramento
PITTSBURGH
Angela Sacramento and Michael Kovachik, both of North Huntingdon, Pa., exchanged wedding vows during a 3:30 p.m. June 9 ceremony at St. John Fisher Church.
The Rev. Carl Gentile officiated, and a reception followed at Churchill Valley Country Club.
Parents of the bride are Denny and Patti Sacramento of North Huntingdon. The groom's parents are Bill and Mary Jo Kovachik of Boardman.
The bride wore a fit-and- flare white gown with a sweetheart neckline and asymmetrical plummets below the waist. The train of the gown flowed into a balloon hem.
Ashley Hartung was maid of honor, and Carly Cook, the bride's sister, was matron of honor. Bridesmaids were Allie Kovachik, a sister of the groom, and Dani Lowery and Tricia Giger. The attendants wore turquoise gowns.
Stephen Blazinic performed the duties of best man. Groomsmen were Joe Brannagan, brother of the bride, and Nick Ulicney, Pat Vince and Tim Roman. Ushers were Jason and Chad Carron, cousins of the groom.
The bride, an accountant for Superior Forge and Steel, received a bachelor's degree in accounting from the University of Pittsburgh.
The groom earned a bachelor's degree in electrical engineering at Youngstown State University and is a senior electrical engineer for SNC-Lavalin.
The couple live in North Huntingdon after a wedding trip to Tahiti and Bora Bora.